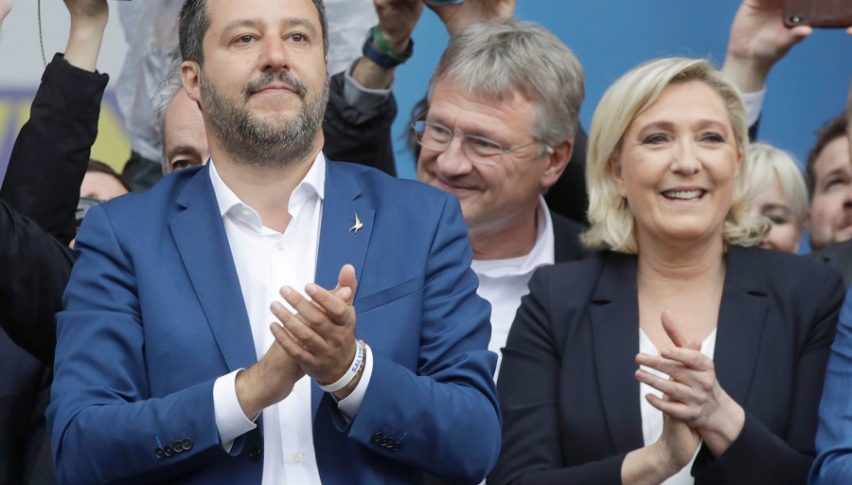 US Session Forex Brief, May 27 – Quiet Markets After European Elections
The markets have been pretty quiet today. The UK is off due to the Spring Bank Holiday while the US is off for Memorial Day, and this is affecting financial markets today. As a result, the price action has been pretty slow, apart from a jump in Auto stock shares which came after Fiat Chrysler announced a proposal for a merger with Renault. Cryptocurrencies have also been on the move today with BITCOIN climbing more than $1,000 higher, placing the spotlight on the $10,000 level now, which will be the decisive level for Bitcoin.
Although, the main event which is still ongoing has been the elections in Europe. The wright wing/nationalist parties have been gaining support across Europe in the last several years and they were hoping to take a big chunk of the seats in the European Parliament which they did. Matteo Salvini took most of the votes in Italy and he is already pushing to renegotiate the debt ceiling with the European Commission which he said will be more friendly to Italy. As I mentioned in the weekend article, this might actually turn out to be a positive thing for Italy in particular since it was having a tough time with the EU regarding the deficit. In France, Marie Le Pen won while in Britain it was Nigel Farrage's Brexit party which took most of the votes. That's no surprise after a lengthy and messy Brexit. So, the political landscape is shifting in Europe after Brexit and Trump's win three years ago.
European Session
Donald Trump Speaks in Japan – Trump had a press conference alongside Japanese PM Shinzo Abe early this morning where he said that he continues to hope that North Korea will proceed with de-nuclearisation. US-Japan alliance is a cornerstone of the region, he wants peace and stability in North Korea and is working to improve economic relationship with Japan on basis of fairness. Trade talk goal is to reduce deficit, wants 'fair footing' in Japan and hopes to announce more on trade very soon. Not bothered by North Korea's launch of short range missiles. No rush with North Korea, sanctions remain in place, he is satisfied with the direction of the North Korea situation and said that Kim understands that only 'bad' can happen with nukes. Trump also touched on China saying that we are not ready to make a deal with China, China probably wishes they didn't try to renegotiate the deal and he bets China wishes that they had made the deal earlier, but thinks he will have a deal with China some time in the future. Will have a deal with China, and another one with Japan. The US has an 'unbelievably' large imbalance with Japan on trade.
Italy's Salvini Speaking – The de facto Prime Minister of Italy Matteo Salvini didn't waste time after hearing the results of the European elections. He commented this morning saying that we must totally re-discuss old and outdated EU fiscal rules. He believes the European Commission will be more friendly towards Italy now and reiterates that Lega is committed to government contract with Five Star, but the key issue for Italians is cutting taxes.
China's Guo Speaking – Guo Shuqing, China's banking and insurance regulator chief, commented earlier. He said that China has never taken any measures to deliberately devalue the yuan. China has never deliberately devalued the yuan amid trade dispute, escalation of trade frictions will have limited impact on China's financial markets. Stock and foreign exchange markets have not panicked and financial risks are controllable.
US Session
Kuwait Oil Minister Uncertain of Extension of Quotas – Kuwait oil minister says it's premature to say if output curbs will be extended in June. The OECD commercial oil inventories are falling towards last 5-year average but "we still have more work to do". He believes oil market is expected to be balanced during the second half of the year "more towards the end of the year".
European Commission Tries to Play Its Hand Before the New Seats Are in Place – Italy has been in a never-ending budget battle with the EU. Salvini is hoping to get a better deal from the EU since Italy is short of cash as the economy is not performing well, but the European Commission is trying to take action before the new seats are taken in the European Parliament. EU commission may open discipline process for Italy budget, risking $4B fine as reported a while ago. But, I don't think they are that stupid to do that.
The main trend remains bullish
The 50 SMA held as resistance
Fundamentals are bearish
The 20 SMA is getting broken

The price reversed at the 50 SMA today
GBP/USD has been pretty bearish for the last two weeks, losing nearly 600 pips as it turned down. Britain is heading towards Brexit with no deal, Theresa May is leaving, and the economy is pretty weak, so fundamentals look pretty bleak in the UK. But there was a retrace higher during the few days, which ended at the 50 SMA (yellow). The price turned back down but was finding support at the 20 SMA on the H4 chart, which now looks like it is being broken.
In Conclusion
It seems now that Donald Trump might try to open another trade war, this time with Japan, after comments that the US has a wide trade gap with Japan. But, we'll see how it goes because Japan's fighting spirit has been killed in WW2. The European elections are over as well and the populist parties are the biggest winners, so let's see how the political landscape changes in Europe now.