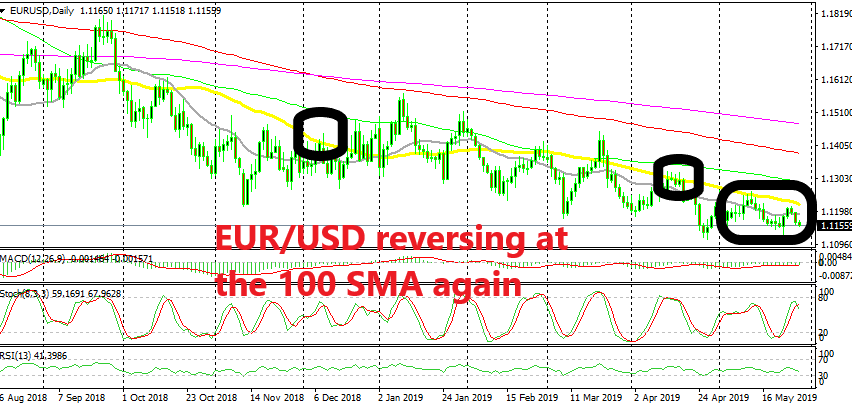 A Good Opportunity to Sell EUR/USD as it Fails at the 100 SMA Again
EUR/USD has been on a bearish trend for more than a year. In recent months the downtrend has lost pace but this pair is making new lows nonetheless and the trend has become more straightforward. The 100 SMA (red) was providing resistance last year for this pair, but in the last two months, the 50 SMA has taken up that job.
In February, this pair made a retrace higher on the daily chart but reversed at the 50 SMA after forming a few doji candlesticks. At the same time stochastic indicator was overbought. The same scenario happened last month and again earlier this month. Last week, EUR/USD turned bullish on Thursday after the soft US economic reports, but the climb ended at the 50 SMA once again.
Now the stochastic indicator is overbought again and we are trading below the 50 SMA, which looks just like another bearish reversing scenario. The price didn't form a reversing signal such as a doji or pin candlestick, but the fact that stochastic is overbought and we have reached the 50 SMA is enough for sellers to come in and a reversal to take place. So, this looks like a good opportunity to sell EUR/USD, with a stop above the 50 SMA.