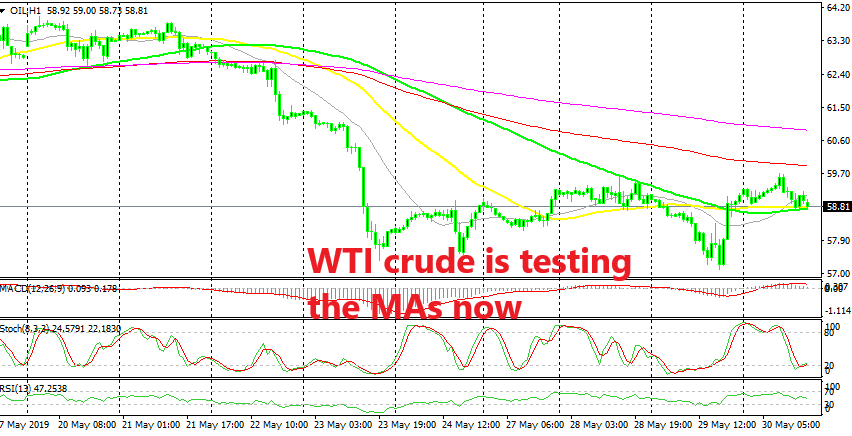 Crude Oil Slips Lower but MAs Turn Into Support Now
Crude Oil has turned bearish since the end of April and at the end of last week we saw another bearish leg take place with US WTI crude losing around $7 in a couple of days. The support area around the $60 level which had been providing support for a few week was finally broken, which was another strong sign that the bullish trend is over, at least for now.
Although, WTI crude Oil formed another support area this week above the $57 level. Yesterday in the evening though we saw a surprising jump which I don't know where it came from. Perhaps, OPEC officials said something about curbing the production output further, but I'm not sure as I was off in the evening and wasn't following the markets.
Anyway, WTI crude continued higher today and climbed nearly $3 in total since last evening. The price pushed above the 50 SMA (yellow) and the 100 SMA (green) which have been providing resistance before. But Oil reversed back down below the 100 smooth MA (red) on the H1 chart and it is now finding support at the other two moving averages. If these MAs hold, then the retrace higher might continue for longer, otherwise, the sellers will resume control.