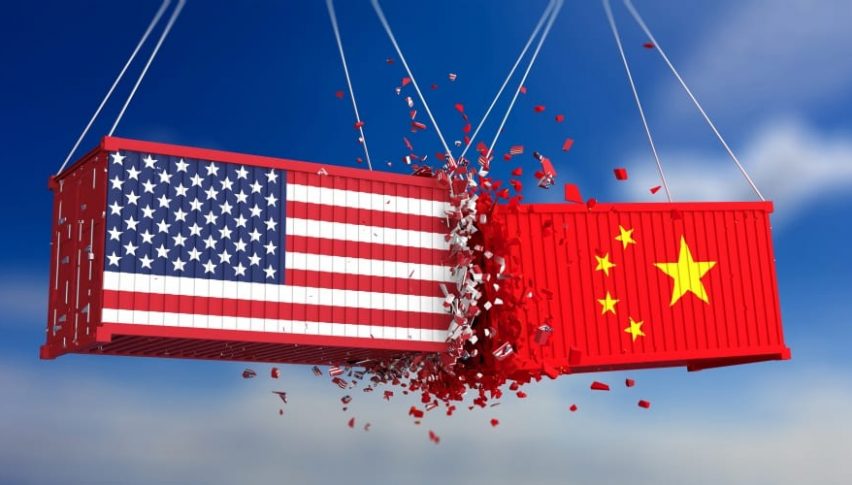 US Session Forex Brief, May 30 – Risk Assets Try to Turn Bullish but the Increasing Trade Tensions Keep Them in Check
In the last few trading sessions, the risk sentiment improved for some reason. Crude Oil jumped higher late in the US session yesterday and continued like that during the Asian session, climbing nearly $3. USD/JPY has also been bullish since yesterday in the evening while European stock markets opened with a gap higher and tried to remain bullish in the first few hours of European trading this morning but they have turned bearish now, together with risk currencies such as commodity Dollars.
That positive momentum didn't last too long though. The trade war is still alive and on everyone's mind when they are trading, so there's no reason to be bullish on anything apart from safe havens. The rhetoric from the US and China is increasing instead of cooling off and today we heard rumours that China has stopped purchasing soy products from the US. China's Foreign and Commerce ministries joined on the rhetoric today which is not helping the markets or resolve anything, so this situation should get worse before getting any better. Mainland Europe is off today for Ascension Day, so the volatility has been subdued again today.
European Session
Spanish Flash CPI YoY – Consumer price index inflation has been on a growing trend in the first 4 months of this year in Spain and last month it jumped to 1.5% from 1.3%. Although CPI inflation was expected to decline to 1.2% this month, this indicator missed expectations diving to 0.8% on an annualized basis, which is yet another negative sign for the Eurozone economy.
China Commentary – Today we heard comments from a number of Chinese officials as well as from other sources which point to further deterioration of the trade conflict between the two giants. Listed below are the comments:


China's Foreign Ministry

China won't accept a deal that hurts sovereignty, pride
US needs to address China's concerns in order to reach a deal
China is firmly against US bullying, forced to retaliate
US consumers will have to pay the costs of tariffs
US bullying will eventually hurt the US itself
Tariffs won't help to solve trade imbalances

China's Commerce Ministry

China will fight till the end if US keeps escalating tensions
China will firmly defend national interest
Hopes that US will correct its wrong practices
US sincerity is in doubt
US sent contradictory messages on trade talks

Bloomberg

China has put purchases of American supplies on hold amid the recent escalation in the trade war between the two countries

More Comments From China

Trade war with US is to have limited impact on state-owned enterprises
State-owned enterprises confident in helping keep economic growth

BOE'S Ramsden Optimistic If Brexit Goes Smoothly – It's been three years now since the Brexit vote and it has been anything but smooth, but Ramsden still thinks things can go smoothly. That will make further monetary tightening appropriate. He is "a little more pessimistic" about GDP growth than latest BOE forecasts. Does not expect investment will recover as much as BOE forecasts. Sees more downside risks to UK productivity. Interest rates could need to go up or down after no-deal Brexit. Would want to wait and see before changing the policy after no-deal Brexit.
Mike Pompeo Speaking on the Trade War Issue – The US secretary of state, Mike Pompeo, was speaking a while ago today saying that the US may or may not get a trade deal with China. That's another terrible headline for risk assets such as stock markets which are still falling.
US Session
US Q1 Prelim GDP – The The US economy expanded by 3.1% as expected in Q1. Personal consumption came at +1.3% vs +1.2% initially, down from +2.5% in Q4 of 2018. Consumer spending on durables at -4.6% against -5.3% initially estimated. Business investment +2.3% vs +2.7% initially. But business investment on equipment comes at -1.0% vs +0.2% initially. Exports up by +4.8% vs +3.7% initially, imports down by -2.5% vs -3.7% initially. It seems the trade war is working for Trump. Net trade added 0.96% to GDP vs 1.03 pp in initial estimate. Business inventories added 0.6% to GDP. GDP price index +0.8% vs +0.9% initially. Core PCE q/q +1.0% vs +1.3% initially.
US Prelim Wholesale Inventories – US Wholesale inventories fell flat in the last reading which was for March, but were revised lower today to -0.1%. Today's report which was for April was expected to show a 0.2% increase but inventories grew by 0.7%. That is positive for the GDP but negative for the economy since companies will not purchase or order as much in the coming months from their suppliers.
US Pending Home Sales MoM – Pending home sales have been quite volatile in recent months. We have seen three negative numbers in the last five months and two positive ones which have been quite huge. In March we saw a big 3.8% jump in home sales and today's report is expected to show a 0.9% increase in April.
The main trend remains bearish
The 20 SMA is pushing the price down
The 50 SMA is also providing resistance
Fundamentals are bearish
The 20 SMA keeps pushing the price down
The situation for the GBP remains pretty bearish as the UK heads out of the EU with no deal. We heard the Irish PM Varadkar say yesterday that he agrees with a Brexit extension and the GBP jumped higher but German officials ruled that out today, so back down it goes. Moving averages are also pushing the price down, with the 20 SMA (green) pushing GBP/USD lower while the 50 SMA (yellow) stands ready to provide resistance if the price moves above the 20 SMA.
In Conclusion
The US GDP report for Q1 of this year didn't show much change from Q4 of last year. Although, the global economy took an upside turn in Q1 which was only temporary and now the global economy has slowed again as the trade conflicts escalates once again. I think that Q2 will be much worse when the report comes out.