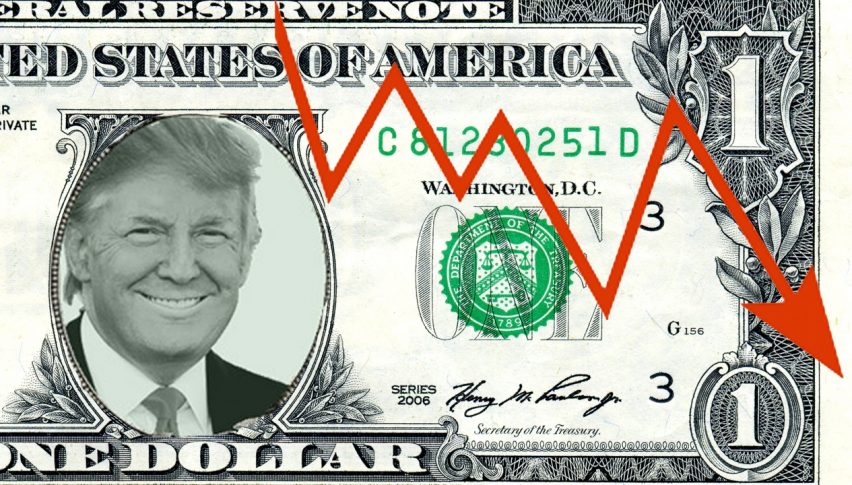 US Session Forex Brief, June 3 – USD Weakness Prevails Today
The US Dollar has been pretty bullish recently but last Friday it turned bearish without any apparent reason. Perhaps the escalating trade conflict between US and China, and rumours for another warfront between US and Mexico are weighing on the USD. But this situation will hurt everyone and it is already hurting the global economy even more than it is hurting the US economy. So, if something has to go down because of the escalating trade conflicts globally, the other major currencies have bigger reasons to fall than the USD.
But, the USD is going down and it has picked up pace today.
EUR/USD
is trading above 1.12 now while
USD/JPY
touched the 108 level earlier today. Even Crude Oil gained today on the back of USD weakness. US WTI touched $52 but bounced higher in the Asian and the European sessions, and has now climbed over 250 pips or $2.5. Oil should be bearish but Saudi Arabia reaffirmed that an extension of the OPEC+ output cuts deal is looking increasingly likely ahead of the meeting at the end of the month and that's what's been helping crude Oil today.
The trade conflict is still the main theme in financial markets. Donald Trump tweeted this morning from the UK that many companies are leaving China for other countries and the US, so I assume this conflict will go on for a long time as both sides keep their positions.
European Session
Spanish Manufacturing PMI – Manufacturing has been close to stagnation in Spain and it did dive into contraction briefly in February. It had been holding on better than in other major Eurozone countries, but not any longer. Manufacturing PMI grew to 51.8 points in April but was expected to soften again to 51.4 points for May. Although, today's report showed that manufacturing activity fell really close to stagnation today, coming at 50.1 points.
Italian Manufacturing PMI – Manufacturing activity fell in contraction in Italy at the end of last year as the Italian economy fell into recession in H2 of 2018. It bottomed at 47.4 points in March and it is still in contraction, but at least it is improving bit by bit. Today, we were expected to see another decline to 48.5 points for May from 49.1 points in April, but the manufacturing PMI beat expectations, coming at 49.7 points.
French Final Manufacturing PMI – In France, the manufacturing PMI has been close to stagnation since the end of last year as well and it has dipped into contraction twice – in December last year and in March. But it returned to expansion in April as the first reading came at 50.0 points while the second one came at 50.6 points. Today.s number for April remained unchanged at 50.6 points.
German Final Manufacturing PMI – German manufacturing was holding on pretty well last year as the rest of the Eurozone was softening pretty fast. But it started deteriorating this year and the deterioration has picked up pace in recent months. In January this sector fell into contraction and in March the fall depend further as the PMI indicator declined to 44.1 points. It improved slightly in April to 44.5 points, but it weakened again in May and today's final reading for last month remained unchanged at 44.3 points.
UK Manufacturing PMI – In UK, the manufacturing sector has been in a good shape and in March we saw jump to 55.1 points. But it started weakening in the next months and today it was expected to weaken further to 52.5 points from 53.1 points in April. However, it missed expectations coming at 49.4 points, which means contraction.
US Session
Canadian Manufacturing PMI – Manufacturing activity has been weakening in Canada as well and in April this sector fell into contraction as the PMI indicator declined to 49.7 points. There were no expectations for May, but we saw yet another decline, with the PMI indicator falling to 49.1 points – which means deeper contraction.
US Final Manufacturing PMI – The US economy was holding up pretty well despite growing trade conflict and a weakening global economy. But last month we saw a sudden decline of the manufacturing and services PMI close to stagnation. Manufacturing fell to 50.6 points and although it was expected to improve slightly to 50.8 points on the final reading today, we saw another decline to 50.5 points.
US ISM Manufacturing – ISM manufacturing has been performing much better than the PMI manufacturing. In March this indicator stood at 55.3 points which is a solid level, but it weakened in April, falling to 52.8 points. It was expected to improve slightly to 53.0 points in May, but today's report showed yet another decline to 52.1 points.
The main trend remains bearish
The price is trading at the 100 SMA
Fundamentals are still bearish for the Euro
This area provided resistance for EUR/USD last week
EUR/USD has been pretty bearish for a long time and last week it was mostly bearish. But we saw a reversal from the support area around 1.11 on Friday and today has been pretty bullish as well for this pair. But it has reached the 1.12 level now which provided resistance early last week and the 100 SMA (red) is still around this area as well. Stochastic is also overbought on the H4 chart which means that the retrace higher is complete. So, I expect a bearish reversal from here.
In Conclusion
The manufacturing reports from all over the globe were released today. This sector remains in contraction in Japan, but at least the Chinese Caixin manufacturing remained in expansion in May as today's report showed. US manufacturing continues to slow and that was the reason for the most recent decline in the USD today.