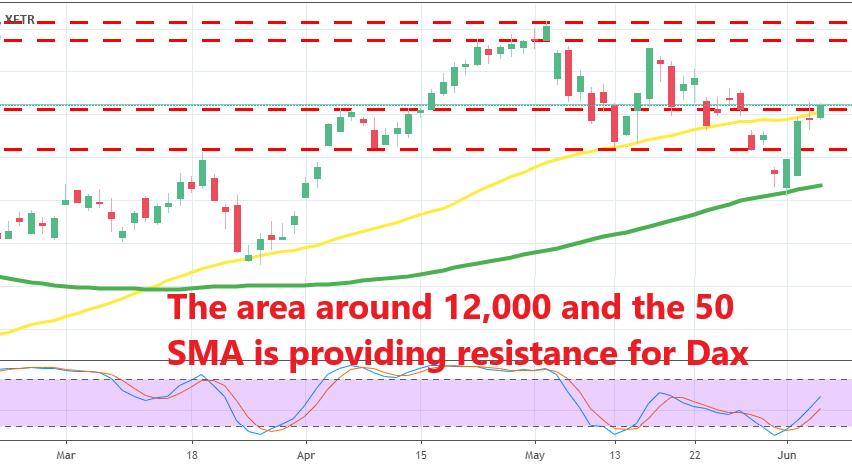 Dax Forms a Reversing Pattern Before the ECB Meeting
Stock markets turned bearish in May after trading on a bullish trend since the beginning of the year as trade tensions calmed down. But, the tensions escalated again last month and the global economy is taking another downturn. As a result, stock markets turned bearish again last month.
Although, this week/month, stock markets have turned pretty bullish. I don't see any reason for this bullish reversal because nothing has changed, if anything, things are getting worse. The trade conflict is escalating further while the global economy is heading towards stagnation, if not recession.
Nonetheless, Dax30 has gained around 400 points this week so far after it bounced off the 100 SMA (green) on the daily chart. The price pierced the 50 SMA (yellow) yesterday, moving above it, which was a strong bullish sign. The 50 SMA provided support for a couple of weeks on the way down, which is supposed to turn into resistance.
But, the price slipped back below the 50 SMA and closed the day below it. That was a sign that the 50 SMA might actually really turn into resistance for DAX. The daily candlestick also closed as a doji yesterday which is a reversing signal. Besides that, stochastic is almost overbought on the daily chart.
The price has moved back above the 50 SMA today, although this might be another fake-out. The European Central Bank meeting is coming up in about an hour and that should give some direction to European stock markets.