U.S. Stocks Rally On Weekly Open
U.S. stocks have opened the trading week modestly higher, extending June's gains. Through the first hour of trade, the DJIA DOW (+168), S&P 500 SPX (+21), and NASDAQ (+112) are all firmly in positive territory.
Today's U.S. economic calendar is sparsely populated, featuring no market-moving events. At least for the early going, it appears as if "low-rate mania" is once again driving bids to the indices.
DJIA Leads U.S. Stocks Into Bullish Territory
The last week of May and the first week of June produced very different narratives in terms of the U.S. equities markets. Trade war fears dominated late-May trade, while early June has brought expectations of an accommodative FED. The aggregate result has been enhanced volatility and heavy participation across the equities indices.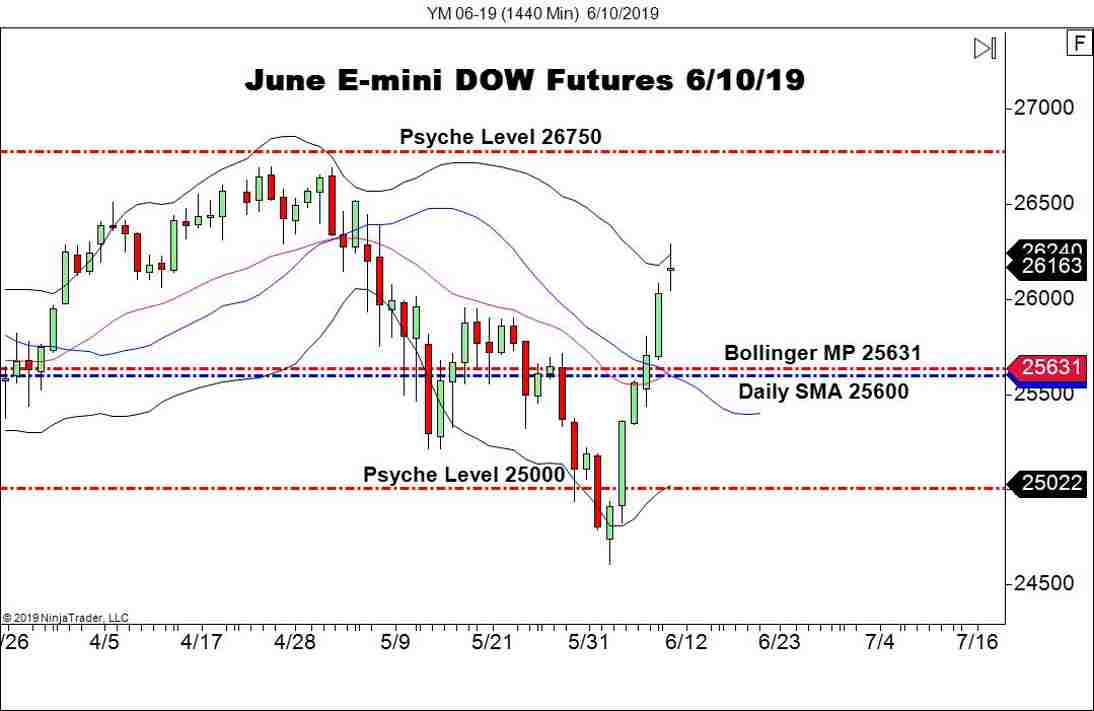 Overview: Don't look now, but the DJIA is driving toward April's top of 26694 (not pictured). If we see the June E-mini DOW close above the upper Bollinger Band at 26240 today, then a test of April's top will become likely by Friday's closing bell.
As far as U.S. equities go, this week is going to be an extension of the trade war/rate cut debate on Wall Street. The American economic calendar is wide-open until Wednesday's CPI figures for May. In the event CPI underperforms expectations, concerns surrounding lagging inflation will grow louder. As a result, the hype surrounding a coming series of FED rate cuts will reach a fever-pitch and stocks will be in a position to benefit.