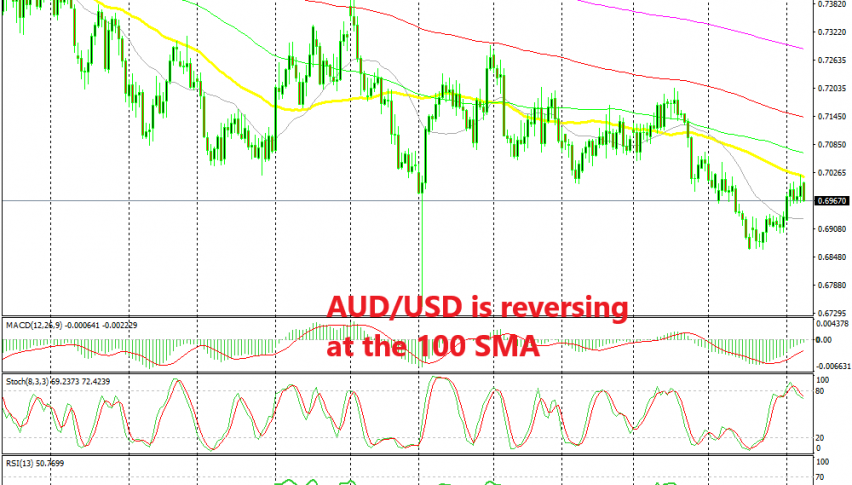 Unlike the Kiwi, AUD/USD Respects the 50 SMA as RBA Ties its Policy to the FED
In the last two weeks, the USD has turned pretty dovish as the economic data from the US continues to show increased weakness in several sectors of the economy. As a result, AUD/USD has turned bullish during this time and has climbed nearly 200 pips higher.
The AUD has been in a bearish trend itself for quite some time as the Chinese economy has weakened as has the economy of Australia. The negative sentiment in financial markets has also weighed on the AUD. But, the USD weakness has been greater in the last two weeks as rumours point to a possible rate cut by the FED towards the end of the year, as opposed to a rate hike that markets were anticipating until a few weeks ago.
The Reserve Bank of Australia (RBA) cut interest rates last week, but that didn't affect AUD/USD much, since traders were all expecting it. AUD/USD continued higher and reached the 50 SMA (yellow) on the daily chart last Friday. But, it stopped there an pulled back lower, unlike NZD/USD which broke higher.
The RBNZ also cut interest rates, but the Aussie is weaker than the Kiwi because the RBA has tied its future monetary policy to the FED. They basically let the markets know that if the FED cuts interest, they might do too. So, the AUD has many more reasons to be bearish than the USD, which means that we might even see a reversal from here. But let's observe the price action first, because this looks like a good opportunity to go short on this pair.