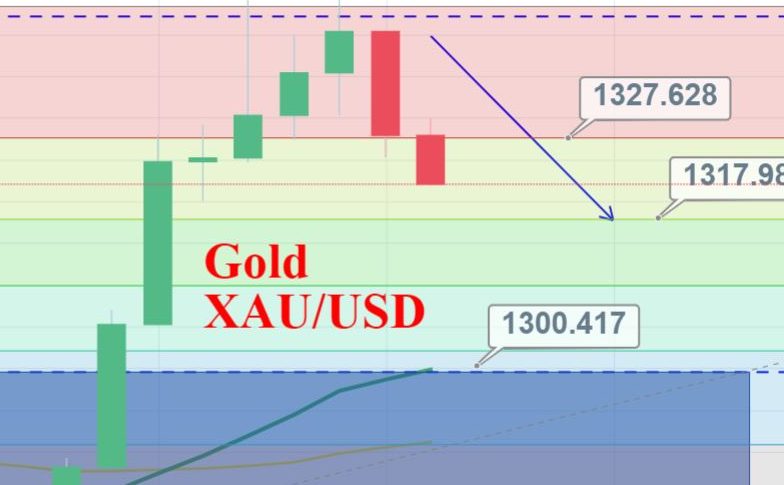 Daily Briefing, June 12 – Gold Surges Ahead of US Inflation
Posted Wednesday, June 12, 2019 by
Arslan Butt
• 2 min read
On Wednesday, the US dollar index is weakening after staying flat on Tuesday as investors focus on the US-China trade war and economic data for signals of growth and whether the US Federal Reserve is likely to cut rates in the coming months.
The risk sentiment still stays mixed, but mostly bearish for the US stock markets, even though the United States reached a deal with Mexico on Friday to avoid imposing tariffs on the country. Today, the market focus will remain on the US Inflation figures from the United States. Who's up for it?
Key Economic Events Today
CPI m/m – 12:30 GMT
For all the newbies, the Core Consumer Price Index (CPI) covers the changes in the price of goods and services, excluding food and energy. A higher than expected reading should be taken as positive/bullish for the USD, while a lower than expected reading should be taken as negative/bearish for the USD.
Lately, the US Federal Reserve Chairman Jerome Powell emphasized that recent weakness in inflation has been temporary — and the surge of core CPI to 2.1% in April supports his words.
However, the inflation figures for May may pose additional hurdles for the Federal Reserve. Headline CPI increased by 0.3% m/m in April and Core CPI by 0.1% while a rise of 0.1% in CPI and 0.2% in Core CPI is on the cards this week.
GOLD Surges Ahead of US Inflation – What to Expect?
On Wednesday, the market traded exactly in line with our forecast "Gold Slips Over Mixed Sentiments" and managed to reverse above 1,317 support level. The volatility remains high as investors are still uncertain about the G20 meeting and the upcoming tariffs that the US is going to inflict on China.
Statistics Office will be releasing the consumer price index data at 12:30 GMT. The inflation figures are expected to be mixed today. The thing is, there's a negative correlation between gold and the US dollar. Therefore, better than expected inflation is likely to drive bearish waves in gold. Perhaps, that's the reason why we see fewer fluctuations in gold.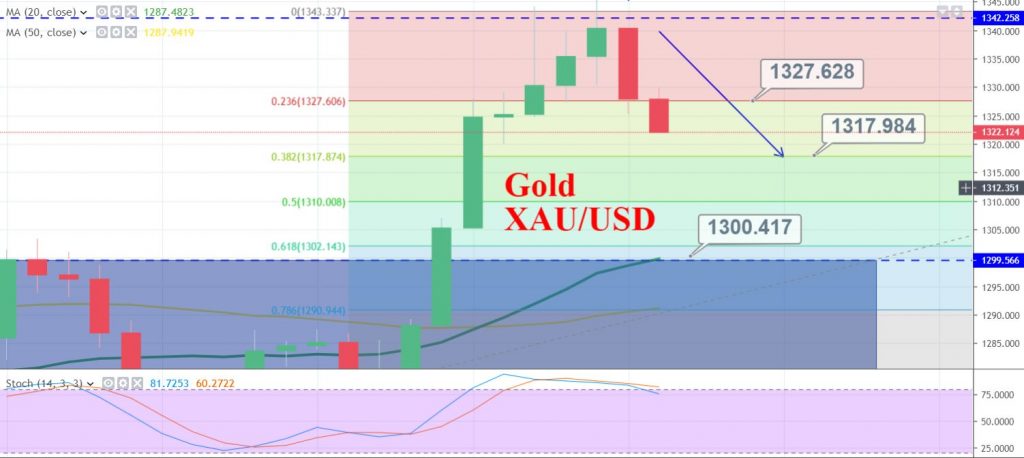 The precious metal is headed lower towards to 1,317 to complete 38.2% Fibo levels. On the 4-hour chart, you can see a Fibonacci setup that we spotted yesterday, it's is still valid. The setup is likely to provide strong support to gold near 1,317 along with resistance at 1,342.
Support Resistance
1321.48 1330.88
1316.02 1334.82
1306.62 1344.22
Key Trading Level: 1325.42
Gold – XAU/USD – Trading Plan
The idea is to stay bullish above 1325.42 with a stop below 1,320 to target 1,340 today. Whereas, selling is suggesting below 1,325 today.
Good luck!
Gold broke below the support zone of $1.950 yesterday and now it is headed for the 100 SMA on the daily chart
3 days ago