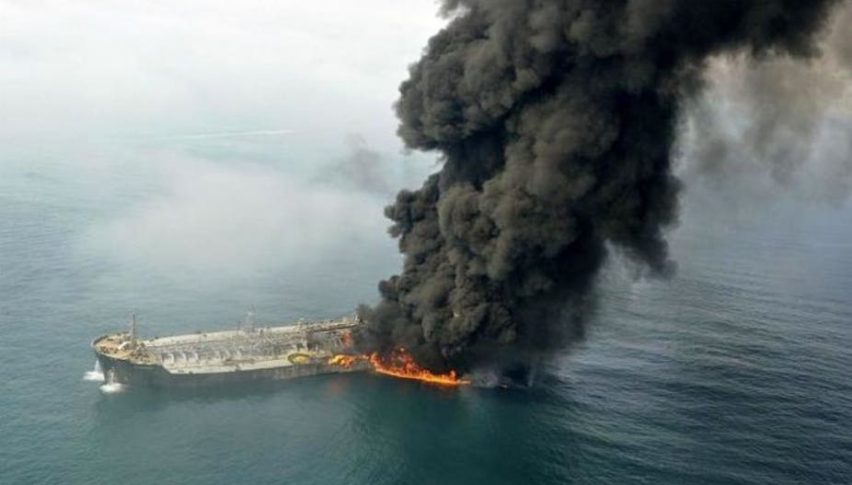 US Session Forex Brief, June 13 – Oil Jumps on Iran Oil tankers Attack, CHF Turns Bullish on Softer Tones from the SNB
In the last two days, I have woken up in the morning to find safe havens in great demand. Yesterday, USD/JPY had dived around 40 pips when I looked at the chart in the morning and that was due to protests in Hong Kong. Hong Kong is sort of an autonomous province of China, but Hong Kong-ians consider themselves separate, while China considers Hong Kong to be a part of China, which makes tensions in that part of the world quite a serious matter globally, hence the negative sentiment yesterday.
This morning, USD/JPY had dived again and this time the reason was the fire in two Iranian Oil tankers. Apparently, two Iranian Oil tankers were on fire this morning, which according to a report by TradeWinds, were struck by torpedoes. Iranian officials said that "suspicious" is the least they can say about the attack which happened when Japanese PM Shinzo Abe was meeting with Iran's Allatoyah Khamenei. As a result, Crude Oil is more than $2 higher.
The Swiss National Bank SNB had their usual meeting today. The SNB left the Libor rate unchanged but they introduced SNB policy rate that replaces target range for 3-month Libor. That rate stands at -0.75%. From now on, SNB will use this rate in communicating monetary policy decisions. Markets were expecting an aggressive SNB today since the CHF is highly valued, as Chairman Jordan put it, and threatened with more intervention in the FX market, which the SNB also mentioned. But they didn't beat that drum too hard today as markets were expecting, so the CHF turned bullish again, with
EUR/CHF
losing around 50 pips.
European Session
Swiss National Bank Meeting – SNB leaves sight deposit interest rate unchanged at -0.75% and they introduced the SNB policy rate that replaces target range for 3-month Libor. From now on, SNB will use this rate in communicating monetary policy decisions, while the monetary policy remains as expansionary as before. Chairman Jordan said that global economy signs remain mixed and risks to baseline scenario remains to the downside. Inflation expectations have declined slightly. SNB policy rate signals level for short-term money market, while the Swiss Franc remains highly valued. Will remain active in foreign exchange market as necessary, but the CHF turned bullish after that mild threat.
German Final CPI – Inflation has weakened across the globe and in Europe in the last year. In Germany, CPI inflation declined by 0.8% in January but turned positive in February and March again and in April the consumer price index grew by 1.0%. Although, in May the first reading showed a small increase of 0.2% which remained unchanged today in the final reading.
Eurozone Industrial Production – Earlier today, we had the industrial production report being released for the Eurozone. Industrial production has declined in the last four out of five readings and the number for March was revised lower to -0.4% from -0.3% previously. Today's report was expected to show a 0.4% decline again, but it came at -0.5%, which means that the economic situation is still deteriorating in Europe. So, there is no reason for the Euro to climb higher and it has now turned lower again.
China Tries the Bad Cop Today – China's commerce ministry commented on the trade war earlier, saying that it will 'fight to the end' if US insists to escalate trade tensions. No new information on US-China trade talks. China firmly opposes US unilateralism and won't back down on principle issues in trade talks. Insists that China has not taken any new measures on rare earth exports and fluctuations in rare earth exports are due to 'changes in market conditions'.
Iran Commenting on Oil Tanks Issue – After the fire in two Iranian Oil tanks in the Gulf, rumours started coming out suggesting that it was a torpedo attack. Iran's foreign minister, Javad Zarif, tweeted: "Reported attacks on Japan-related tankers occurred while PM @AbeShinzo was meeting with Ayatollah @khamenei_ir for extensive and friendly talks.
Suspicious doesn't begin to describe what likely transpired this morning. Iran's proposed Regional Dialogue Forum is imperative." This event helped crude Oil climb more than $2.50 higher.
OPEC Is Not Optimistic About Oil Prices – OPEC warns that trade tensions are hurting global oil demand. OPEC released its monthly report on the oil market and here are some of the comments from that report. Ongoing global trade tensions have resulted in weaker growth in global oil demand, Observed slowdown in the global economy in 1H will be further challenged in 2H. OPEC revises down Q1 oil demand growth to 900k bpd. Other forecasts in 2019 are mostly unchanged. OPEC sees that world demand will rise by 1.14 mil bpd in 2019, down from 1.21 mil bpd.
US Session
Seems Like BoJo Will Take the Tory Leadership – Today was the first ballot for the leadership of the Conservative Party. Here are the results which don't need much explanation.
US Unemployment Claims – Unemployment claims were coming at around 230k during April, but they declined to 210k-215k in May. The report released last week which was for the last week of May was revised higher to 219k today from 218k previously, but it remained within the 210k range. Today's report which is for last week was expected to show the same range for jobless claims, expected at 215k, but they missed expectations increasing by 222k.
Canadian New Housing Price Index – The Canadian new house price index has been pretty weak, remaining flat in the last several months at 0.0% while in January it declined by 0.1%. This index was expected to increase by 0.1% in today's report which was for April, but remained flat, pretty much the exact scenario we saw last month.
The trend has been bullish for several weeks
The pullback lower is complete on the H1 chart
The 100 SMA is providing support

The price is finding support at the 100 SMA
EUR/GBP has been on a bullish trend since the beginning of May when it reversed higher. Since then, th pressure has been completely on the upside for this pair and the 20 SMA and the 50 SMA have been providing support on the H4 time-frame and pushing the price higher. So, all the retraces lower have been really good opportunities to go long on this pair. Today we are seeing yet another pullback lower but the pullback is now complete as the stochastic indicator suggests, while the 100 SMA (red) is providing support on the H1 chart. The H4 chart is not oversold yet, but the picture in the H1 chart is pointing to a bullish reversal.
In Conclusion
The event in the Gulf with the attack on Iranian Oil tanks shows that tensions are still ongoing in the Middle East, which helped Crude Oil climb nearly $3 earlier. But the weakening global economy has is hurting the demand for Oil as well as the sentiment in financial markets, so Crude Oil as a risk asset should be bearish for some more time to come as OPEC feared in today's comments, despite the increased tensions.