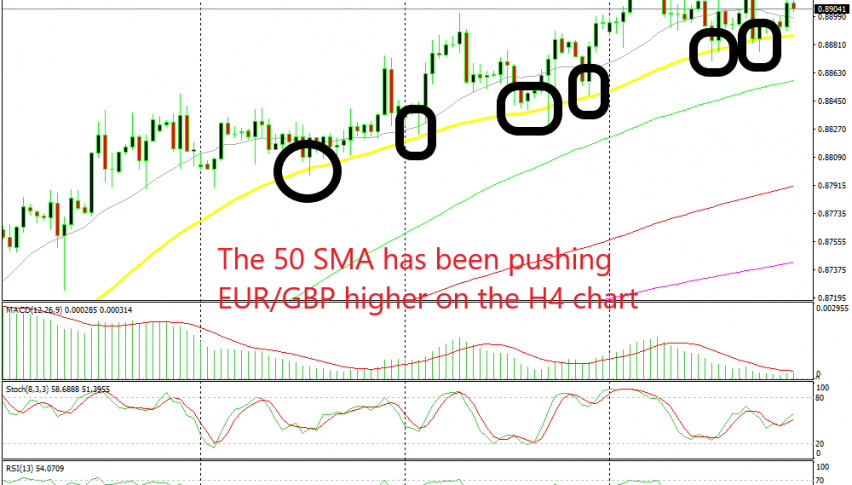 Moving Averages Keep Holding the Uptrend in Place in EUR/GBP
EUR/GBP has been on an uptrend for six weeks now, since it reversed from bearish to bullish at the beginning of May. Some people use trend lines to define trends, but for me, moving averages are the best indicators for trends since they are dynamic and adapt to market fluctuations.
On the H4 chart, we see that the 50 SMA (yellow) has been providing support during the last three weeks, while in the previous three weeks, it was the 20 SMA (grey) which held the uptrend in place. The price has pierced the 50 SMA a few times, the last time being yesterday, but it hasn't closed below that moving average, so the 50 SMA hasn't been broken. I highlighted the dip to the 50 SMA yesterday in the US session brief as a good trading opportunity to go long. If you took that suggestion, then you should have had a winning trade by now.
Here is the 100 SMA which is providing support
On the H1 chart, we have the 100 SMA (red) which has been providing support for EUR/GBP in the last two weeks. We have seen the price retrace lower to the 100 SMA quite a few times and form reversing candlesticks there, which have been followed by bullish reversals, such as yesterday. I am beating myself up a bit for not taking this trade, but the plan is basically the same – wait for a pullback lower to MAs and then go long from there.