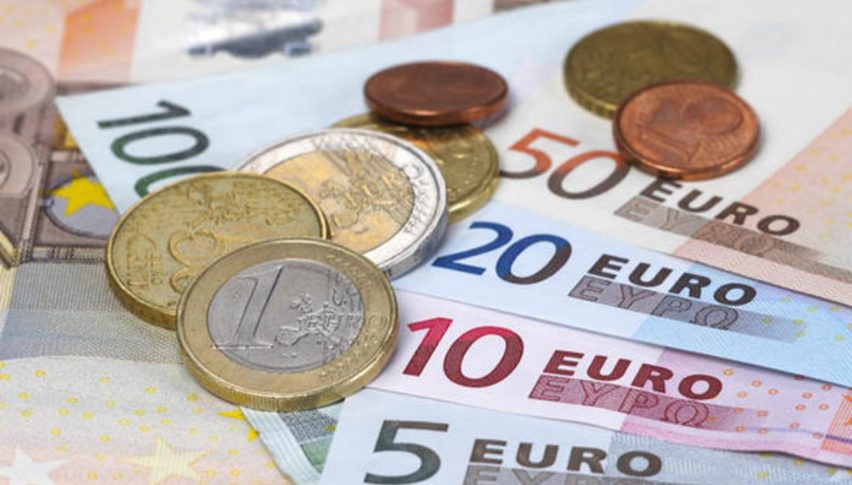 The Euro Has no Reason to Rally Despite as Inflation Expectations Hit Record Lows
EUR/USD made a bullish reversal last week climbing more than 200 pips as the USD turned bearish due to the accumulation of quite a few soft economic reports in the last several weeks. This pair climbed above a few moving averages, which seemed like a trend reversal at some point, but the Euro has many more reasons to decline than the US Dollar.
Yes, the economic data has shown that the US economy has been weakening, as the rest of the globe has done for more than a year now. And yes, the FED might cut interest rates next month, with odds of them doing so now at around 88%. But the situation surrounding the Euro is much worse, I mean, you can hardly find something which could help it. Here is a list of the most important data from the Eurozone only for this month:
| | | | |
| --- | --- | --- | --- |
| Eurozone Economic Data | Actual | Expected | Previous |
| Spanish Manufacturing PMI | 50.1 | 51.4 | 51.8 |
| Italian Manufacturing PMI | 49.7 | 48.5 | 49.1 |
| French Final Manufacturing PMI | 50.6 | 50.6 | 50.6 |
| German Final Manufacturing PMI | 44.3 | 44.3 | 44.3 |
| Eurozone Final Manufacturing PMI | 47.7 | 47.7 | 47.7 |
| Italian Services PMI | 50.0 | 49.9 | 50.4 |
| Eurozone Retail Sales MoM | -0.4% | 0.5% | 0.0% |
| Eurozone PPI MoM | -0.3% | 0.4% | -0.1% |
| German Industrial Production MoM | -1.9% | -0.4% | 0.5% |
| Eurozone Sentix Investor Sentiment | -3.3 | 2.3 | 5.3 |
| Eurozone Industrial Production MoM | -0.5% | -0.4% | -0.4% |
| Eurozone CPI YoY | 1.2% | 1.4% | 1.7% |
| Eurozone Core CPI YoY | 0.8% | 1.0% | 1.3% |
The manufacturing sector is one of the heaviest damaged by this global economic slowdown. Spanish manufacturing fell close to contraction in May and France is close to stagnation, while in Italy this sector is in contraction despite a small improvement last month. In Germany, manufacturing is in deep contraction which has affected the whole Eurozone manufacturing as well which also is in deep contraction. This sector should get even more hurt if Donald Trump applies tariffs to the European car manufacturers.
Retail sales declined in April as this month's report showed, after falling flat in March. The producer price index turned negative for the second month, declining by 0.3% after in April after posting a decline of 0.1% in March. The industrial sector has also been hit pretty hard, with industrial production in Eurozone declining in six out of the last seven months, while in Germany it has been declining in five months out of the last seven, with a big decline in April as the last reading showed.
Inflation has also been affected terribly by the global trade war and economic slowdown. We saw a jump in April, both in the headline and core CPI (consumer price index) inflation. But that was due to the Easter holiday weekend because inflation turned lower again in May, losing 0.5%, with the headline CPI declining to 1.2% which is the lowest in many years and core CPI falling to 0.8% which is below the minimum target if the European Central Bank of 1.0%.
CPI inflation and inflation expectations in the Eurozone
Although, that's not the worst. Inflation expectations are even lower at around 1.0%. That basically means that the markets are losing confidence in the ECB to stabilize the situation. The ECB didn't sound too dovish in the last meeting and Mario Draghi tried to keep his cool, but rumours are telling us that the ECB is getting worried about inflation de-anchoring. It will introduce an new TLTRO stimulus programme but that will not be enough. So, the Euro has all reasons to decline and no reason to rally. All retraces higher such as the latest one in EUR/USD, should be seen as good opportunities to go short.