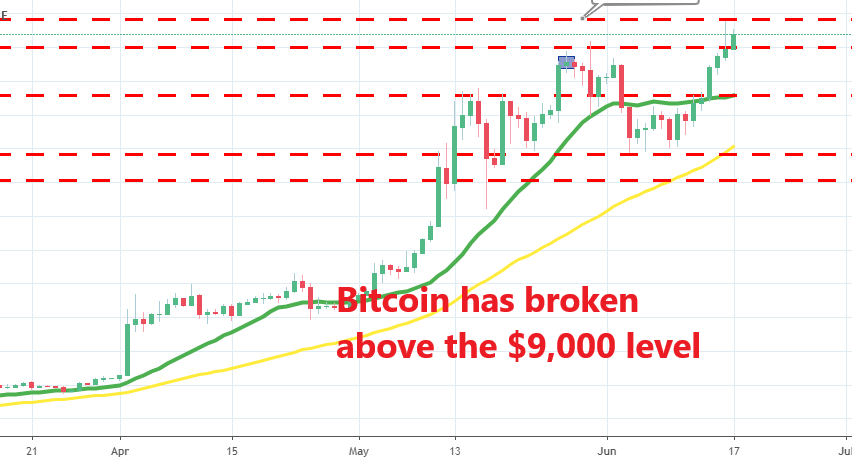 Bitcoin Eyes the Big Level at $10,000 After Breaking Above $9,000
The big decline which lasted throughout last year in cryptourrencies is officially over. The low for BITCOIN was placed in December last year somewhere above the $3,000 level, which is now the ultimate support for sellers, but I don't think we will get back there anytime soon.
Bitcoin found support at the 50 SMA (yellow) on the monthly chart down there at the beginning of this year, which was a strong reversing sign after the stochastic indicator also became oversold on that time-frame. Then came the reversal at the beginning of this year and cryptos started turning bullish.
In the last couple of months, the new trend has picked up pace. Now Bitcoin and other cryptos are definitely bullish which can be seen by the break of previous support levels without much resistance, as they should have. The $4,000 level provided some decent resistance earlier this year, but after it broke, Bitcoin pushed through the other major levels like a knife through butter.
The price reached the $9,000 level and pierced it for a moment last month, but it pulled back lower and declined to $7,400 as the daily chart above shows. Eventually, the buyers returned and yesterday the price pierced the $9,000 level again, but closed below it.
That was a strong sign that the $9,000 level would go this time and today we see that Bitoin is finally trading above this level, having reached $9,420 this morning. Now, the target is the $10,000 level which will be the big target for buyers and the final frontier for sellers. If $10,000 goes, then Bitcoin will head for $20,000.