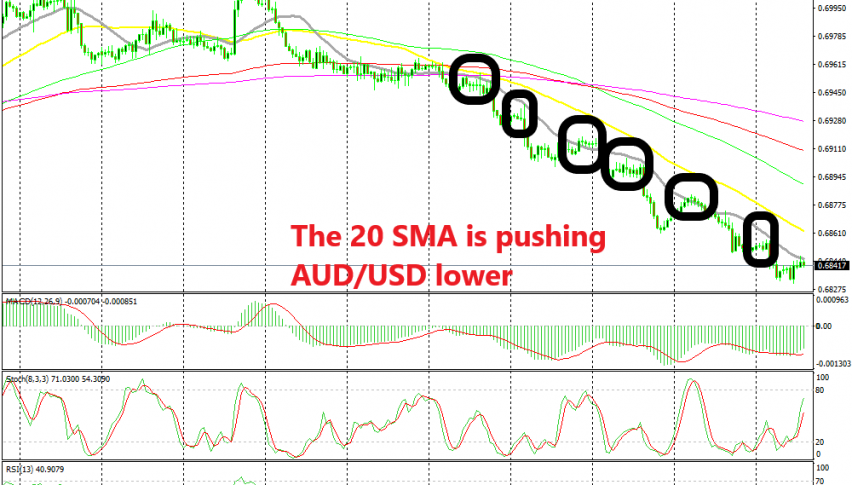 The Selling Pressure Remains Strong in AUD/USD as the 20 SMA Keeps Pushing it Lower
AUD/USD has turned pretty bearish since the beginning of last week. The last week of May and the first week of June were pretty bullish for this pair as the USD turned bearish during that period, after the weak economic data from the US had been accumulating, which increased the odds of the FED cutting interest rates in July.
But, nothing is set in stone; the US economy has weakened, although not as much as the other developed/major economies of the globe. The Australian economy is in a worse position and the slowdown in the Chinese economy will hurt Australia further since China is the biggest export partner for the Aussies. Besides that, the deteriorating sentiment in financial markets hurts risk assets such as Commodity Dollars, like the AUD and the NZD.
So, the Aussie has no reason to run. If the Buck has reason to decline, the AUD has many more reasons to do so, hence the bearish reversal in AUD/USD since the start of last week. The Reserve Bank of Australia cut interest rates in the last meeting and that won't be the end of it, especially if the FED cuts, because the RBA promised to cut again if the FED does so.
For this reason, the downtrend has been pretty strong in AUD/USD since early last week. That can be observed by the 20 SMA (grey) which is pushing this pair down. The sellers are not waiting for the price to move higher and meet larger period moving averages. Instead, they are jumping in as soon as the 20 SMA catches up, which is the smallest MA I use.
This is happening on the H1 chart which also is a small time-frame, which shows that the trend is as strong as it gets. Right now, the price is trading just below the 20 SMA, so this might be a good opportunity to go short, even though the retrace is minimal. Alright, I just opened another sell trade in this pair, so here we go again.
AUD/USD has been making strong gains this week, with the RBA helping the bullish case, but buyers are facing the 200 daily SMA now
3 days ago