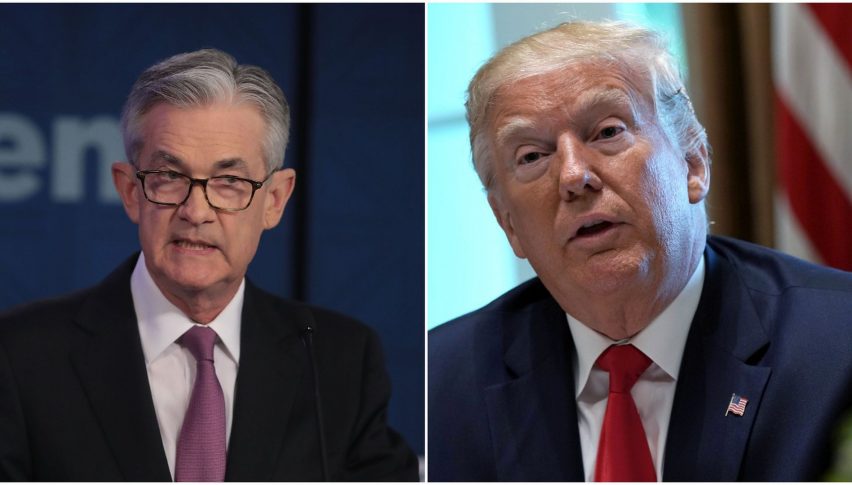 US Session Forex Brief, June 19 – Is the FED Going to Turn as Dovish as Markets Have Priced in?
The big event is finally here, almost. The FED meeting is scheduled for this evening and markets have priced in a dovish shift in the FED's rhetoric today. The data has shown that certain sectors of the US economy have slowed down considerably and are close to stagnation. This means that the US economy is joining the rest of the globe in this economic slump and now odds of the FED hiking interest rates have diminished, while the odds of them cutting interest rates have increased dramatically, and markets are expecting a rate cut next month, with odds of that happening being near 90%, the last time I checked.
If that is the case, the FED should give us some clues today to let the markets know that this is coming next month, instead of delivering a surprise rate cut in July which shouldn't have much impact on markets. For this reason, most markets have frozen this week, waiting to see what the FED will do. Donald Trump took a hit at the ECB yesterday after Mario Draghi's comments about cutting interest rates, but that was aimed at the FED. Trump would love a rate cut next month, although that might go both ways, the FED might listen to Trump as the economy has weakened considerably, but they might as well play tough, just to prove that they are independent and don't get affected by Trump's tweets. We also had two inflation reports today, from the UK and from Canada, both of which were quite positive to say the least, so the GBP and the CAD are on a bullish trend at the moment.
European Session
German PPI – The producer price index PPI has been declining in three out of the last five months, from December until April. Today's report was expected to show a 0.2% increase in producer inflation for May, but we saw yet another decline of 0.1% this time. It seems that the declining Oil prices in May have affected import prices.
UK Inflation Report – Headline CPI inflation was expected to tick lower in May and so it did, declining to 2.0% YoY from 2.1% in April, which is still a really decent level. CPI MoM cooled off as well for May, coming at 0.3% as expected from 0.6% in April. Core CPI YoY also ticked lower to 1.7% from 1.8% in April, but that was higher than the 1.6% expected. The house price index HPI remained unchanged at 1.4% YoY as previously, against 1.1% expected. March was revised higher to 1.6%. Producer price index PPI fell flat at 0.0% in May against 0.2% expected and down from 1.1% in April.
Eurozone Construction Output – The construction output in the Eurozone for April came at -0.8%, down from -0.3% MoM in March, which was also revised lower to -0.4%. Construction output growth YoY also slowed to 3.9%, down from 6.3% in the previous reading, which was also revised lower to +5.8%.
ECB'S De Guindos Speaking – The ECB vice president, Luis de Guindos, was speaking on the monetary policy this morning saying that the ECB has a wide range of tools available, including QE. ECB could opt for 'combination of actions' since it foresees lingering softness in the short-term. If we see that inflation expectations start to de-anchor, we will act. There could be a combination of actions to restore inflation path and the ECB is open to react to any situation. Risks are tilted to the downside; if they start to materialize, ECB will act accordingly
Germans Hate Cutting Rates – CSU lawmaker, Hans Michelbach said earlier that Draghi's "uncoordinated" comments on monetary policy are alarming. He continued saying that Draghi is trying to make it difficult for his successor to reverse signals on monetary policy.
US Session
Canadian Inflation Report – Inflation grew by the same pace in May as in April. CPI increased by 0.4% against 0.1% expected. Median CPI YoY increased by 2 points in May, from 1.9% to 2.1%. Trimmed mean CPI YoY increased even more, jumping to 2.3% from 2.0% in April, against 2.1% expected. The headline CPI YoY made the biggest jump, increasing to 2.4% from 2.0%, against 2.0% expected. Prices increased in all 8 major components, with six accelerating. Food up by +3.5%, transportation up by +3.1%, durable goods +2.5%, fresh vegetables by +16.7% YoY. Today's inflation numbers, especially headline CPI YoY, exceeded even the highest estimates.
FED Meeting – No one is expecting any move from the FED today, even after Donald Trump gave a signal yesterday to them to follow the rest of major central banks and probably cut rates. So, this meeting shouldn't be important. But, the idea that the FED might cut rates next month has traders glued to the screens for any signs or clues regarding the next move. That's why markets have been frozen today.
The pressure is on the downside
Fundamentals are bearish
The pullback higher is complete
The 100 SMA provided solid resistance today
The price is reversing at the 100 SMA
USD/JPY has been bearish for a couple of months now since it reversed down as the trade war escalated several weeks ago. The sentiment remains pretty negative across the markets which increases bids for safe havens such as the JPY. Overnight, this pair slipped lower but it retraced back up during the European session. But that retrace is complete now as stochastic indicator suggests. The 100 SMA (red) provided resistance earlier today and the previous candlestick closed as a doji which is a reversing signal. The reverse down is already happening so we have a bearish bias for this pair.
In Conclusion
The inflation report from Britain this morning was positive despite a small cool-off. Markets were expecting a worse report. The inflation report from Canada was even better, so both these two currencies ave been climbing higher today. But, that won't last too long as the FED meeting is approaching, which we will cover live.