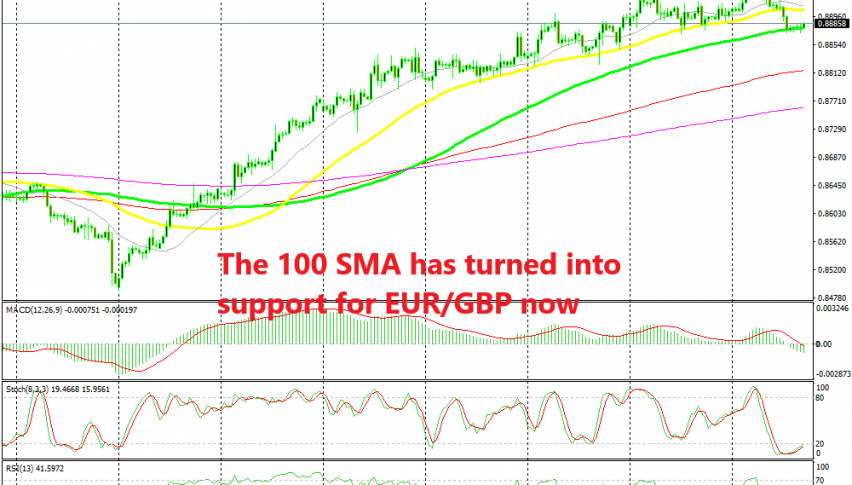 The 50 SMA Give Up As Support in EUR/GBP, the 100 SMA Takes its Place
EUR/GBP has been on a solid uptrend for several weeks now, since the beginning of May, after everyone realized that Theresa May's Brexit deal wan't going to make it through the Parliament. The Euro has been also weak during this time, but the GBP has been much weaker, hence the climb, which is worth nearly 5 cents.
During this time, we have had quite a few successful signals going with the flow to the upside. We have waited for the price to retrace lower to moving averages and then go long from there. The 20 SMA (grey) was supporting the price and pushing the trend higher in the first few weeks, making it a great place to go long from.
Then, towards the end of May, the trend slowed down and the 20 SMA was broken, but the 50 SMA caught up with the price and turned into a solid support indicator for several weeks. Now the trend has slowed further and the 50 SMA finally gave up yesterday, as the European Central Bank turned more dovish and mentioned rate cuts.
The price has slipped below the 50 SMA yesterday as the GBP attracted some decent bids after the inflation report which was sort of positive. The markets were expecting some weaker figures, considering the terrible economic figures we have seen from the UK recently. But, the price found support at the 100 SMA (green), which is what usually happens with moving averages – one of them gets broken, the other one takes its place as support/resistance. The 50 SMA has been holding since yesterday and stochastic is oversold, so a bullish reversal is expected.