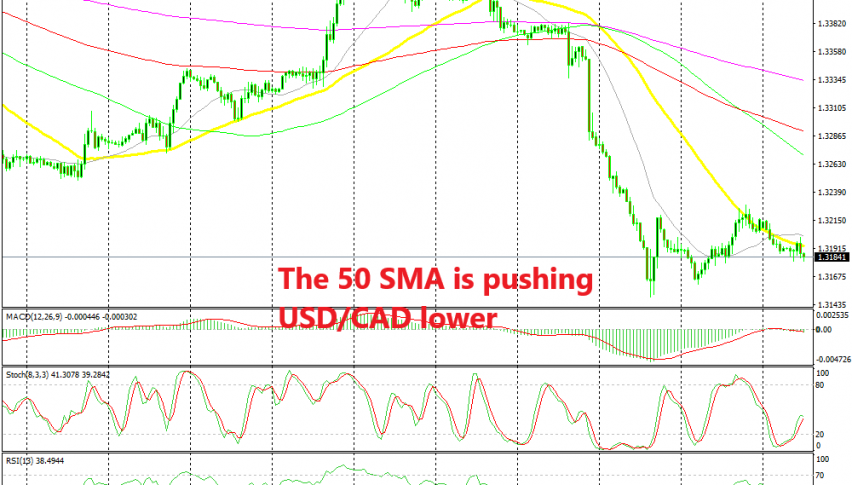 USD/CAD Can't Raise its Head Up as Crude Oil Stretches the Upside Further
The CAD was pretty bearish during last year as the weakening global economy and the tariffs war kept weighing on risk currencies, such as the Loonie. We saw a revival during the first quarter of this month as Crude Oil turned bullish, thus helping the CAD, since Canada is a major Oil producer and exporter.
But, the sentiment deteriorated further in the last two months in financial markets, for the same reasons that it had turned negative last year. As a result, the CAD turned bearish again, thus USD/CAD turned bullish. The Canadian economy has slowed considerably as the recent economic data has shown, apart from the occasional surprise now and again.
But a lifeline has been thrown out for the CAD to hang on. OPEC+ is planning to extend the production cuts, while the geopolitical tensions are increasing in the Middle East and Iran. As a result, Crude Oil has turned quite bullish once again with US WTI crude now trading just below $58 and UK Brent crude trading above $65.
The increase in Oil prices has helped the CAD and USD/CAD turned bearish last week, losing nearly 300 pips in a few days. The pullbacks higher we saw on Thursday and Friday last week were pretty weak and the 50 SMA (yellow) has been pushing this pair lower in the last few sessions.
So, the picture looks bearish for this pair now and we will try to sell it once it completes another pullback higher.
Crude Oil has been bearish for more than a year, but this week we saw a decent reversal higher on higher Caixin manufacturing
2 days ago