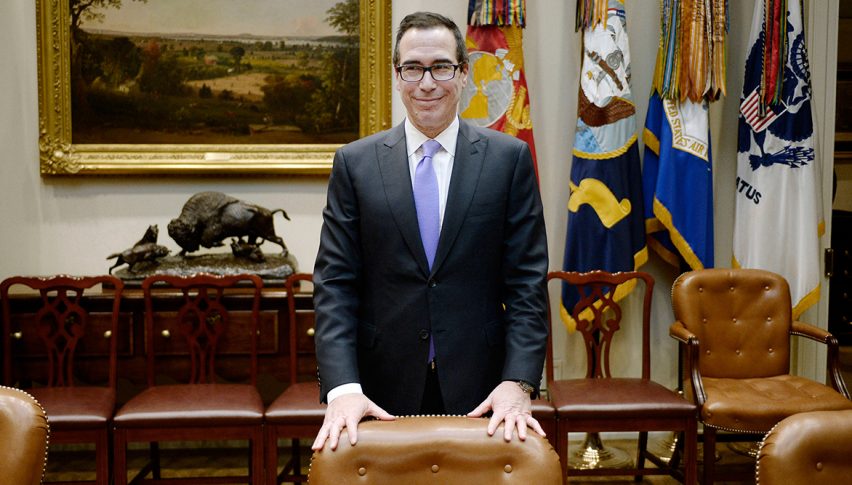 US Session Forex Brief, June 26 – Sentiment Turns Positive on Mnuchin Remarks, US Durable Goods Come Mixed as Boeing Disappoints
The main theme of the last several weeks in financial markets has been the negative sentiment which was a result of a number of factors, such as the increased weakness of the global economy, the escalating trade war and growing geopolitical tensions. Most of these factors are pretty much alive, but we heard some positive comments from the US Treasury secretary, Steven Mnuchin, who was speaking to the CNBC, saying that 90% of the trade deal with China is done.
That has improved the sentiment today and safe havens have been on the retreat during the European session. Although, that 10% of the agreement where the two parties haven't met yet, that's what really matters. It's like when UK politicians were 95% sure that the Brexit deal was a done thing. So, I think that it is too early to be optimistic about a US-China trade deal. But markets have been dovish for so long that any positive comment is taken at face value.
The US durable goods orders report was released a while ago and they showed another major decline of 1.3% for May, making this the third big decline in durables in the last four months. But there's a catch; core orders increased by 0.3% instead and capital goods orders increased by 0.7% last month. Both these numbers exclude orders for aircraft and aircraft parts. Also, Boeing orders fell by 50% last month due to the crashes we have seen in the last several months, which means that actually, the durable goods report was quite positive.
European Session
German GfK Consumer Climate – The consumer climate has been on a declining trend in Germany as in most of the globe recently. This indicator used to be at 10.8 points at the beginning of this year but it started declining falling to 10.4 points in March and April and in May it fell further to 10.1 points. Today, this indicator was expected to tick lower again to 10.0 points, but missed expectations and declined to 9.8 points.
Mnuching Sounded Optimistic on China-US Deal – The US Treasury secretary, Steven Mnuchin, was speaking to CNBC early this morning saying that the trade deal with China is 90% complete. He hopes that the US can seal a deal with China but won't speculate on timing of a deal. So basically, where we were, but at least there are negotiations ongoing.
BOE's Carney Expects a No-Deal Brexit – BOE governor, Mark Carney was speaking in the British Parliament today where he said that it's more likely we would provide stimulus than tighten policy after a no-deal Brexit. But the response to interest rates is not automatic if there is a no-deal Brexit. The BOE forecasts would change if the UK moves towards a no-deal Brexit. Brexit uncertainty is hurting short-term economic performance. Expectations of a no-deal Brexit have risen, thus affecting the economy, but markets are not saying that no-deal is the most likely Brexit scenario. The business uncertainty is as high as it was before the 29 March deadline and the housing market has been affected by Brexit deadline. The tightness in UK labour market has been feeding through into pay growth. He's right about the last comment.
Wilbur Ross Also Speaking on China – The US commerce secretary, Wilbur Ross, was speaking on the China issue earlier that the US is looking for reasonable deal with China over trade. Trump's tariff threat on China is not a bluff. US has national security concerns over Huawei.
US Session
US Durable Goods Orders – The durable goods report was released about 2 hours ago and it is showing a 1.3% decline for May against 0.0% expected, which is yet another big red number. Core durable orders which exclude transport came out better, showing a +0.3% increase in May against a +0.1% increase expected, but the previous number was revised lower to -0.1% from 0.0%. Capital goods orders non-defense excluding aircraft and parts came higher at +0.4% against +0.1% expected. Capital goods shipments non-defense excluding air also came higher at +0.7% against +0.1% expected, while the previous number was revised to +0.4% from 0.0%.
Trump Says US-China Had Hard Conversations on Trade – Donald Trump Was speaking on Fox Business a while ago, saying that China wants to make a deal more than he does. There will be substantial additional tariffs if no China deal which must include IP protection and opening the Chinese market. If he decides to place additional tariffs, it could be 10%, not 25%. Powell is not doing a good job and he has high rates, while Obama had cheap money. He has the right to demote or fire Powell but hasn't suggested he would do it. The US should have Draghi instead, LOL. China devalues their currency like a ping-pong ball. Fed's policy is 'insane', ECB is pouring money in while Fed is taking money out. Powell doesn't do anything for US as other countries devalue their currencies. Plan B with China is to reduce business with China. Vietnam is also taking advantage of US and he called Vietnam the single worst abuser of everybody. He ended saying that the US will 'perhaps' sue Google and Facebook.
US Prelim Wholesale Inventories – The May prelim wholesale inventories came at 0.4% against 0.5% expected. Previous wholesale inventories stood at 0.8% for April but were revised higher to +0.9%. Retail inventories came at 0.5% , beating expectations of 0.3% while the previous number for retail inventories stood at 0.6%.
The pullback higher is complete on the H4 chart
Previous support should turn into resistance
MAs are catching up
Fundamentals are bearish for this pair
Stochastic is now overbought on the H4 chart
USD/JPY has been on a bearish trend for nearly two months now, losing more than 500 pips from top to bottom. This week we saw this pair make new lows, but the price has been retracing higher since late US session yesterday. Although, the buyers seems to have difficulties pushing above 107.70s which used to be the low tow weeks ago, and now the previous support seems to be turning into resistance. The 50 SMA (yellow) and the 100 SMA (green) are also catching up with the price and they will likely provide resistance and push the price lower again, so we are short on this pair since a few hours ago.
In Conclusion
As we mentioned above, the sentiment improved considerably today after Mnuchin's comments about the trade deal being 90% complete. But, the decline in safe havens has stopped in the last few hours as has the climb in risk assets. That 10% includes IP theft and a closed domestic market in China, which are the main things where the two parties divide. So, the deal is as far from being complete now as it was a month ago.