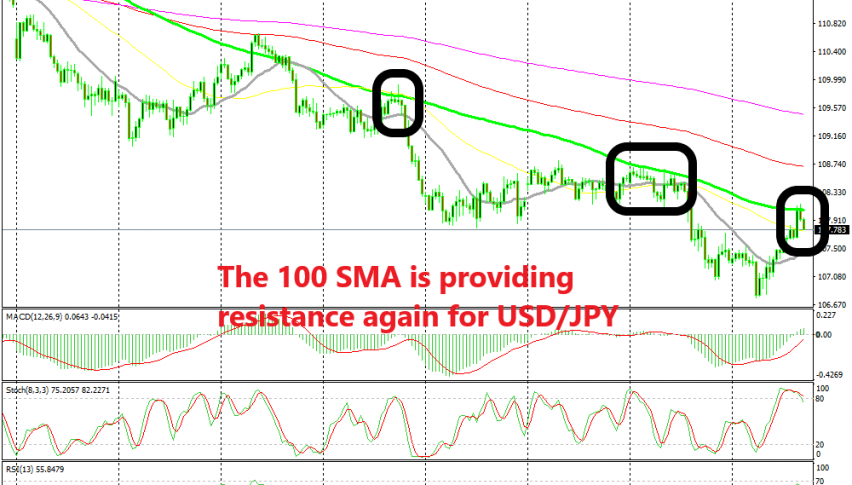 The 100 SMA Turns Into Resistance Again for USD/JPY
Just like EUR/CHF which we posted an update about earlier on, USD/JPY has also pulled back higher in the last couple of days. The price broke below the 107 level this week, but reversed back up and during the last several sessions, USD/JPY has climbed around 150 pips from the bottom.
The reason for this reversal is the improving sentiment in financial markets after US Trade Secretary Mnuchin said that the trade deal with China is 90% complete. That doesn't turn around the economic slowdown that has set in for major economies of the globe, but at least it's like a drop of water in the desert, after seeing so many negative events in recent months.
So, this pullback was going to come to an end before long and the end of the climb might already be here. The price reached the 100 SMA (green) on the H4 time-frame, which has been providing resistance for this pair since May. The stochastic indicator is severely overbought which means that the retrace is complete and it is now turning down.
The price has already slipped around 40 pips lower off the highs today, so it seems like the target for buyers was this moving average and the reversal is underway. Now the price hasn't fallen too far, which makes this setup still attractive to trade. The obvious trade here would be short, with a stop above the 100 SMA and a target above this week's lows, which makes the risk/reward ratio quite attractive. We might not take this trade, but you can if you like this trade idea.