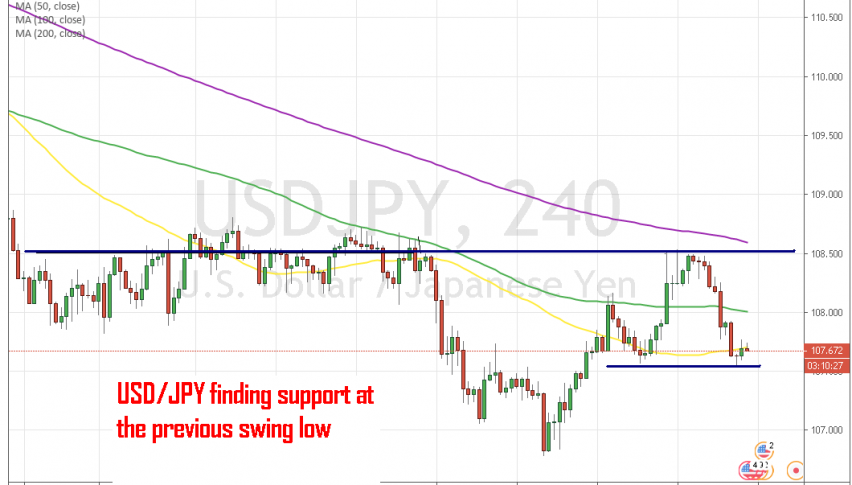 USD-JPY Finding Support at the 50 SMA as it Reversed Down
USD/JPY has been on a bearish trend since late April when it reversed below the 112.50 level. During this time, the pair has lost nearly 600 pips from top to bottom as safe havens received some strong bids due to increasing geopolitical and economic tensions, which were hurting the USD and helping the JPY.
But we saw a reversal last week, ahead of the G20 summit. The upside picked up more momentum on Monday after the positive comments from the US and China during that summit, which improved the sentiment in financial markets immediately and sent safe havens lower, meaning that USD/JPY climbed around 100 pips higher from the bottom.
But the global economy is slowing down and even a trade agreement between China and the US wouldn't have much impact on the major economies right now. In fact, the slowdown is accelerating and a trade agreement would take months to translate into better economic conditions globally.
So, at the moment, both sides are at risk right now. We saw a reversal down yesterday which continued today during the Asian session as well, but the price is now trading around the 50 SMA (yellow). This moving average provided support late last week when the price bounced off the 100 SMA (green) and pulled back lower.
But the 50 SMA held, despite the price trading for some time below and above it, just like today. Now the price is back at this level and the 50 SMA stands here again. The price is oversold as well on the H4 chart and the candlestick formation is pointing to a bullish reversal. So, we decided to open a buy signal here, hoping that the pullback will be complete and the recent uptrend will resume again.