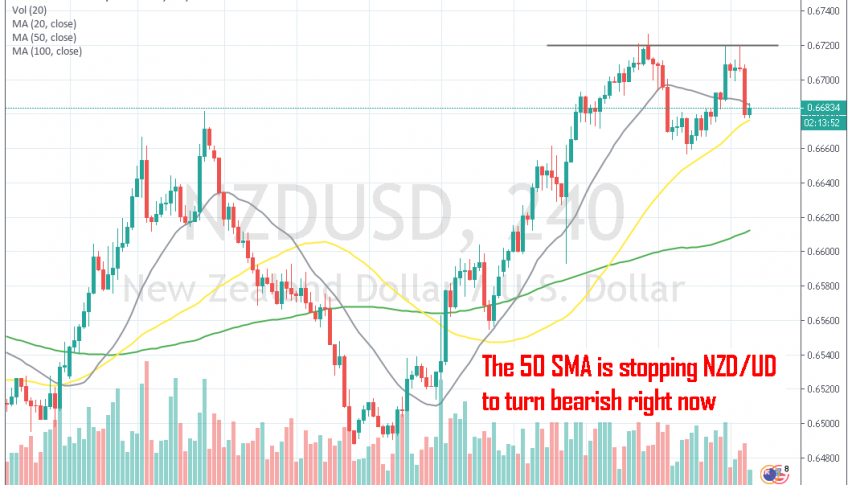 NZD/USD Turns Lower at the Resistance but the 50 SMA Holds the First Attempt
Commodity Dollars have been pretty bearish in the second half of last month. NZD/USD climbed around 250 pips during that period as the USD turned bearish. The trend was really strong as you can see on the H4 chart above and the 20 SMA (grey) was providing support, which also shows the strength of the trend.
The buyers pushed as high as 0.6720-30 but the climb stopped there as the G20 summit approached and we saw a bearish reversal on Monday after the positive comments from China and the US, which improved the sentiment for the USD. A trade deal with China would take out one of the major negative factors for the US economy, especially now that it has weakened considerably.
So, the price reversed back down and lost around 80 pips that day, but the USD lost the momentum because it's still too early to call for a trade deal. The price reversed higher again above the 50 SMA (yellow) and turned bullish in the next few days, but the buyers couldn't push above the resistance area at 0.6720s. Today, we are seeing another bearish reversal at the resistance after the price formed an upside-down pin candlestick, followed by a big bearish candlestick, which has formed a bearish reversing pattern on the H4 time frame.
But the 50 SMA is holding again as support. The price has made a small bounce off the 50 SMA and it is now trading below the 20 SMA (grey). According to this chart setup, NZD/USD should continue lower now, but it has to break the 50 SMA for the trend to really turn bearish. If the 50 SMA gets broken, then that would be a good opportunity to short this pair, because we are hearing rummours that the FED might not cut interest rates this month, which would turn the USD quite bullish and this pair bearish. So, let's wait and see how the price will react down here now.