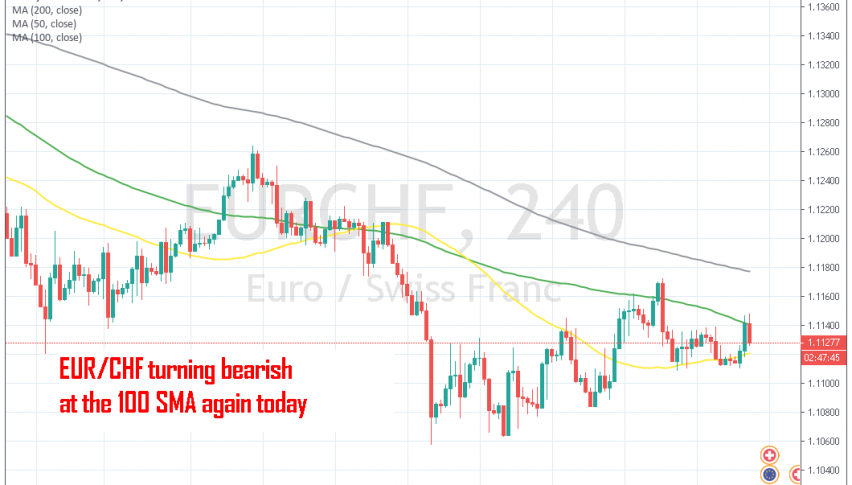 EUR/CHF Can't Turn Bullish As It Finds Resistance at the 100 SMA
EUR/CHF has been bearish for a couple of months now, since it reversed down from 1.1450s about two months ago, as the global economy accelerated the decline and the trade war escalated again. As a result, safe havens have been receiving very strong bids during this time and despite threats from the Swiss National Bank with intervention, the sellers have been piling up and pushing this pair lower as the CHF gets stronger.
The decline stalled at 1.1150s which is a support level and retraced higher for some time, but the sellers returned. This pair found some support at the 50 SMA (yellow) for a couple of days, but once that moving average was broken, the bearish trend picked up pace further and the previous low was broken.
The price consolidated between 1.1050 and 1.1150 during the last week of June and the 50 SMA turned into resistance for some time, but that moving average was broken this week as the sentiment improved after the G20 summit. Although, the price has found strong resistance at the 100 SMA (green) on the H4 chart.
We saw a quick break earlier in the week, but the price reversed back down and it reached the 50 MSA, which seems to have turned into support again for this pair. Today we saw another jump to the 100 SMA during the European session, but the 100 SMA held as resistance once again and now the price is reversing back down. So, the 100 SMA continues to provide resistance for EUR/CHF and it is pushing the price lower, which makes it a good place to sell this pair.