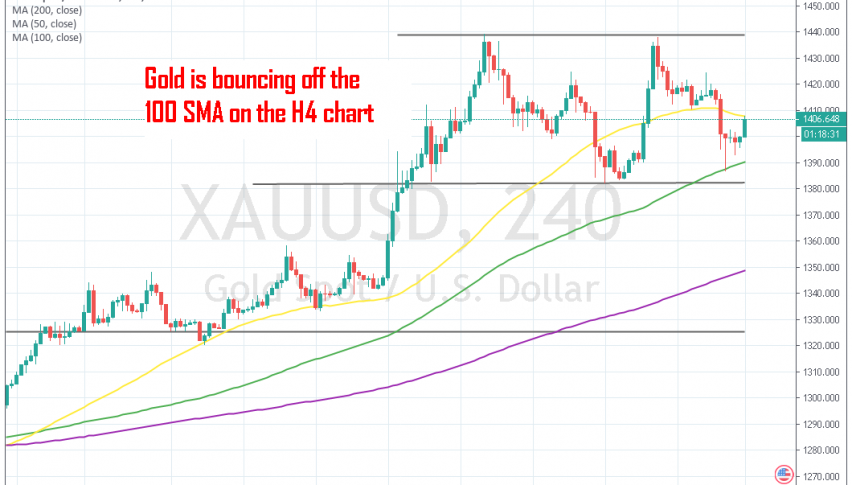 If the Double Bottom Works Out, Gold Should Head to $1,320s
GOLD turned pretty bullish last month as the sentiment deteriorated in financial markets, after the escalation of trade tensions once again. Other fundamental issues such as geopolitical tensions between the US and Iran increased uncertainties and hurt the sentiment further. In such times, safe havens benefit greatly, as we have seen in JPY and CHF pairs last month. So, Gold surged from around $1,300 at the beginning of June to $1,440 by the end of the month.
In the last week of the month though, Gold retraced nearly $60 lower as the G20 summit approached and hopes of a positive summit helped improve the sentiment. The summit was positive indeed, after hearing upbeat comments from Donald Trump and from Chinese officials. Safe havens slipped lower the following Monday, but markets quickly realized that a trade agreement between US and China is still far, despite positive comments from both sides.
The global economy is still weakening as we have seen from the economic data recently, so the buyers came back once again in the first week of this month. But they closed their trades at the resistance area below $1,440 for the second time, which makes this zone a really strong resistance area. The price slipped back down but it found support at the 100 SMA (green). Now we see a double top pattern in Gold.
The 100 SMA held in the first attempt, which also comes closely above the support level at $1,382, so that zone counts as the neckline for Gold. If the sellers manage to push below that level, then the next target will be at around $1,325. I might not sell the break right away, but if it happens, I will wait for a pullback to this level in order to go short.
If the break doesn't come, then we might as well look to buy from down here with a target near the top and a stop loss below support zone at $1,280. But, we will have to see how the sentiment turns out this week as well as follow the price action down here.