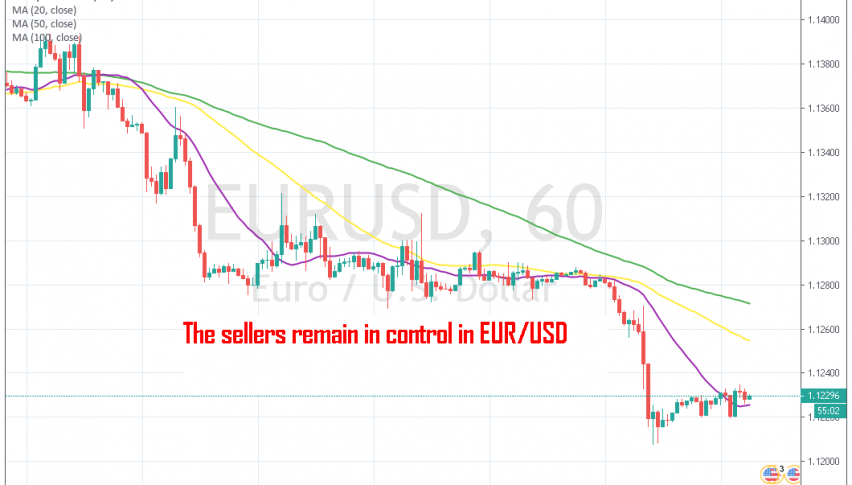 Shorting EUR/USD as it Remains Pretty Weak
EUR/USD has been pretty bullish towards the second half of June as the USD turned bearish on weak economic data from the US in the last several weeks. But, the G20 summit turned out to be positive for the USD as China and the US released some positive comments after the meeting between US President Trump and the Chinese President Xi. The trade war is still on, but if an agreement is reached, then it will remove one of the major risk factors for the USD and the US economy, hence the improvement in the sentiment surrounding the USD after the summit.
As a result, the USD has turned sort of bullish again, while the Euro is getting increasingly bearish. EUR/USD made two big bearish moves last week, the first one taking place on Monday right after the summit which sent this pair around 100 pips lower, while the second on Friday took us 70-80 pips lower.
This pair has tried to retrace higher in the last few session, but the retrace has been really weak as seen from the chart above. The price has barely retraced 20 pips higher during this time, while the stochastic indicator is now overbought on the H1 chart, which means that the buyers are already giving up and the pressure remains on the downside. So, we decided to pull a trade here, shorting EUR/USD after the price formed a doji candlestick which is a reversing signal. After all, there still plenty of room to the downside until we reach the support at 1.11.
Yesterday the CPI numbers from European countries showed a slowdown, so today's headline Eurozone inflation numbers should be soft as well
1 day ago