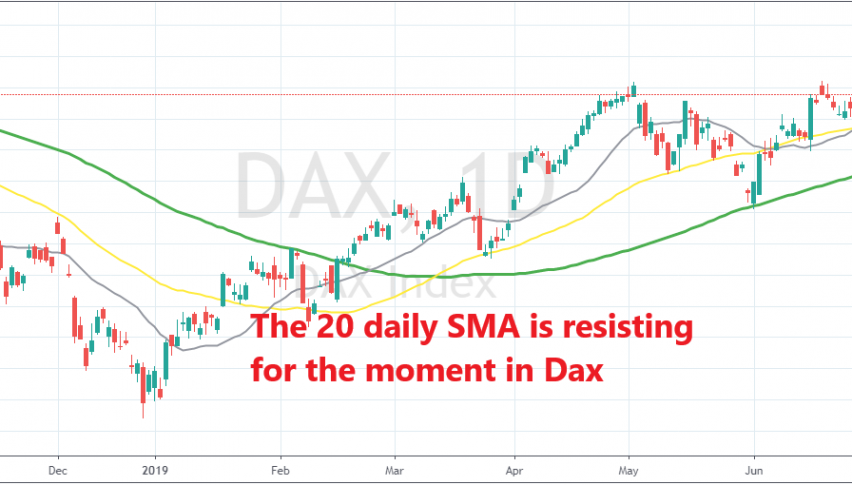 Where is Dax Going to Reverse – at the 20 SMA, 50 SMA or the 100 SMA?
Stock markets have been on a bullish trend since they reversed at the end of last year, following a terrible Q4 when they tumbled lower on a deteriorating sentiment. Since then, buyers have been in total control and moving averages have also been helping as they kept providing support on dips in the daily time-frame chart.
During the first several months when the trend was pretty strong, the 50 SMA (yellow) was providing support. But then, the sentiment turned negative again in financial markets as the global economy entered another weak phase and the trade war escalated again. As a result, we saw a dive deeper in May and DAX lost around 1,000 points.
But, the 100 SMA (green) came to the rescue and the uptrend resumed during June. Stock markets opened with a decent bullish gap at the beginning of this month after the G20 summit which improved the sentiment further in financial markets, although we have been seeing a pullback lower in the last several days.
Now the price is trading at the 20 SMA on the daily chart which is providing some form of support. The picture now points to a possible bullish reversal after the doji candlestick from last Friday which is a reversing signal. But, the sellers still look in control, so I will be waiting for Dax to reach the 50 SMA (yellow) and then I will look to buy this index, because right now it seems to dangerous.