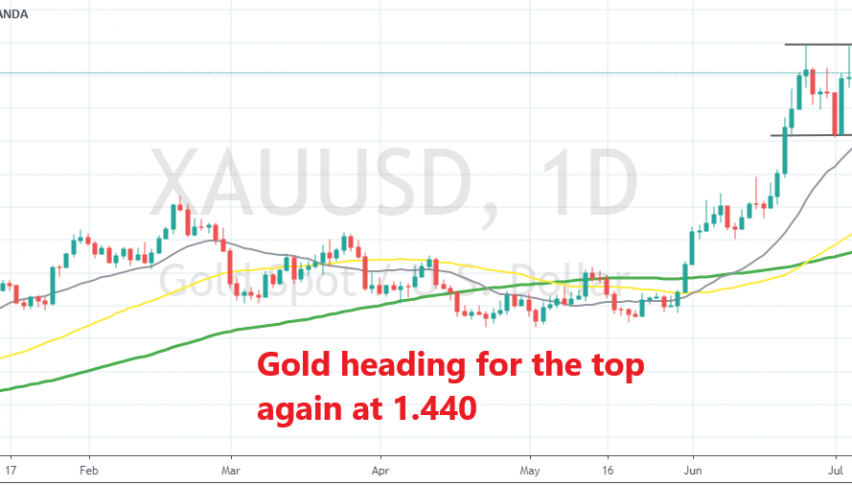 Gold Bounced Off the 20 SMA Yesterday After Forming a Hammer
GOLD turned extremely bullish in June as the sentiment turned massively negative, which benefits safe havens greatly. As a result, USD/JPY turned bearish and lost around 500 pips, while Gold turned bullish and climbed from $1,280 to $1,440. The price pulled back off that level ahead of the G20 summit and the Monday following that summit.
Although, the decline stopped above $1,380 and towards the middle of last week we saw another spike to $1,440. But the previous high reversed the price once again, which seems that now it has formed a resistance at $1,440. I am beating myself for not trying a short trade from that level, but we will get more chances – that's a certain thing in forex.
The price returned back down, but the decline stopped again above the previous support, so it seems that a bottom has been put in place as well around $1,380-$1,385. The 20 SMA (grey) did a good job in providing support as well this second time around. On Tuesday, the daily candlestick closed as a hammer which is a revering signal and yesterday we did see a reversal indeed, shown by the big green candlestick. This chart setup points further to the upside, so we are heading again to the $1,440 level, I reckon. I will see how the price reacts up there this time and probably open a sell signal from there.
Gold broke below the support zone of $1.950 yesterday and now it is headed for the 100 SMA on the daily chart
2 days ago