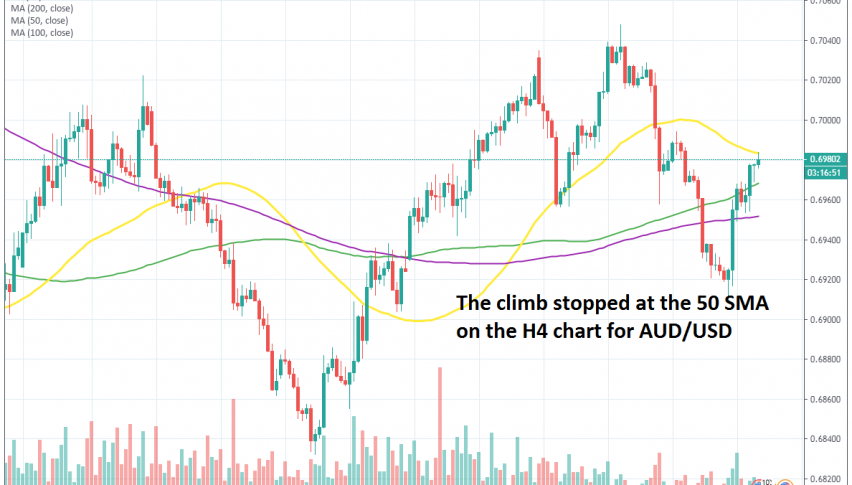 Selling the Retrace in AUD/USD at the 50 SMA
AUD/USD has been on a bullish trend for most of June, climbing around 200 pips in the process. The main reson for this was the decline in the USD which came after a series of weak economic data from the US, because the AUD doesn't have any reason to rally whatsoever.
Anyway, this pair turned bearish in July after the sentiment surrounding the USD improved, following the positive tones of the G20 summit in Japan about two weeks ago. The 100 SMA (green) also provided some solid resistance at the top. AUD/USD lost 150 pips since the beginning of this month and it broke below all moving averages on the H4 chart, as you can see from the image above.
Although, we saw a jump higher yesterday after Jerome Powell's testimony which sounded sort of dovish. The price has climbed around 60 pips so far but now this pair is overbought on the H4 time-frame. Besides that, the 50 SMA (yellow) that provided support earlier this month, has now turned into resistance and has stopped the climb for now.
So, we decided to go short on this pair, considering the situation regarding the USD is much better than the one surrounding the Aussie. The Reserve Bank of Australia has cut interest rates twice in the last two meetings and they still remain pretty dovish. Now we are short on this pair with a stop above the 50 SMA. Let's see if the price will reverse back down now.