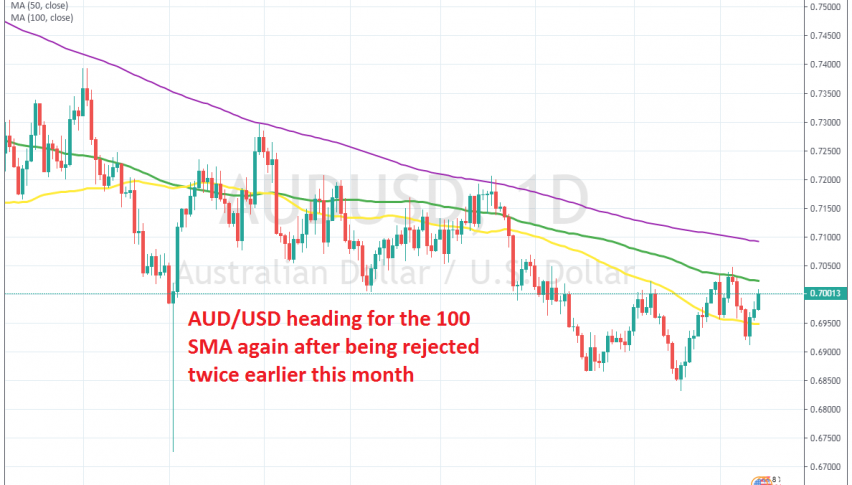 The Trend Remains Bearish for AUD/USD After Reversing Lower from the 100 SMA, Despite the Recent Climb
AUD/USD has been on a bearish trend for more than a year, since the USD buyers gained back control early in 2018. The downtrend has been consistent, with the smaller moving averages such as the 50 SMA (yellow) providing support and pushing the price lower during the first few months when the trend was strong, then the larger MAs such as the 100 SMA (green) and the 200 SMA (purple) taking its place in the recent months as the pace slowed down.
Although, we saw a reversal higher during the second half of June after seeing a series of pretty weak economic reports from the US, which suggested that the US economy was joining the rest of developed economies in this slump. The price broke above the 50 SMA on the daily chart, which threatened the trend for a moment.
But, the 100 SMA didn't give up on this long-term plan. AUD/USD banged its head in the last day of June against this moving average and then reversed down, but it found support at the 50 SMA. The buyers had another go the next week as the price bounced off the 50 SMA, but the 100 SMA resisted for the second time.
The price returned back down and this time the sellers broke below the 50 SMA, which confirms the bearish trend. We saw another reversal higher after Powell's dovish remarks this week, which has weakened the USD. But judging the fundamentals of both sides and the technical picture of the daily chart, the trend is clearly bearish for this pair and any pullback higher should be seen as a good opportunity to go short on this pair.