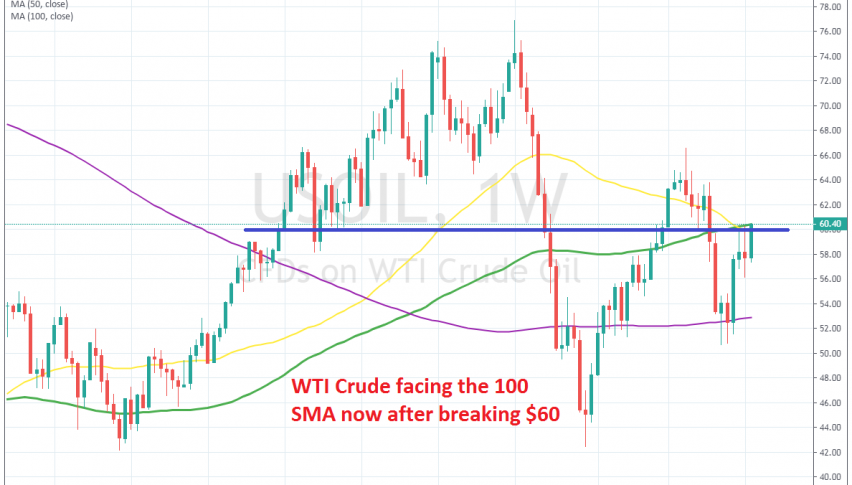 WTI Crude Oil Facing Obstacles After Breaking Above $60 as Storm Approaches in the Gulf of Mexico
Crude Oil turned bullish by the middle of June, following a steep decline in the previous two months which took the price around $16 lower. But the area above $50 turned into a support zone for this pair and after bouncing twice from that area, the trend turned bullish.
WTI crude broke above the $60 level for a moment at the beginning of last week, but it reversed back down and in the last two weeks, the price has formed two reversing weekly candlesticks, as you can see from the chart above, one upside-down hammer and another spinning top. Those two candlesticks formed below the 50 SMA (yellow) and the 100 SMA (green) which gave the impression that Crude Oil was going to turn bearish this week.2
But a storm is approaching in the Gulf of Mexico, which might turn into a tornado. That would bring some disruption to Oil production and supply since many large refineries are in the Gulf of Mexico. As a result, yesterday crude Oil had a really bullish day, climbing more than $2 and finally breaking the $60 level for the first time in about two months.
But, now WTI crude is facing the 100 SMA (green) on the weekly chart. This moving average has been providing support exactly a year ago, so it might turn into resistance now. If the buyers push above the 100 SMA, then the next target will be this year's high at $66.50. Otherwise, if buyers fail to push above the 100 SMA, then the price should reverse back down below $60. Today is Friday, so we will have to wait and see on Monday where Oil will be heading. The storm in the Gulf of Mexico will have done its job by then, so we will have a clearer view on Crude Oil.