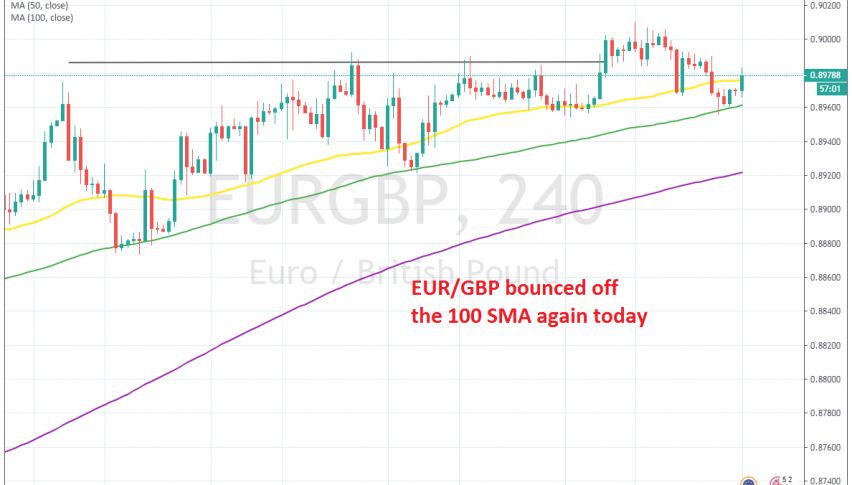 EUR/GBP Resumes the Uptrend After Bouncing at the 100 SMA
EUR/GBP has been trading on a bullish trend for nearly two months now and last week it even broke above the 0.90 level, which is an important level for this pair, since the break of it opens the door for 0.95 and even parity at 1:1. Things don't look good for the Eurozone economy, so the Euro is doomed as the ECB turns more dovish, but the situation surrounding the GBP is even worse.
This means that this pair might reach parity in the coming months if Britain heads off out of the EU without a deal, as it is actually doing. The uptrend has been really consistent in this pair as a result and all dips lower have presented us some great opportunities to go long on this pair.
The 50 SMA (yellow) has done a great job in providing support on the H4 chart for EUR/GBP and we have pulled a few trades from that moving average. But the 100 SMA (green) has also come to the rescue three times in the last several weeks when the 50 SMA has thrown the towel.
Last Friday I was waiting for the price to reach the 100 SMA after breaking below the 50 SMA. But, I missed the chance as the price reached the 100 SMA late in the evening. Now we are seeing another bounce off the 100 SMA, so that opportunity is gone. But we will continue to follow this pair for another dip to the 100 SMA where we again plan to buy.