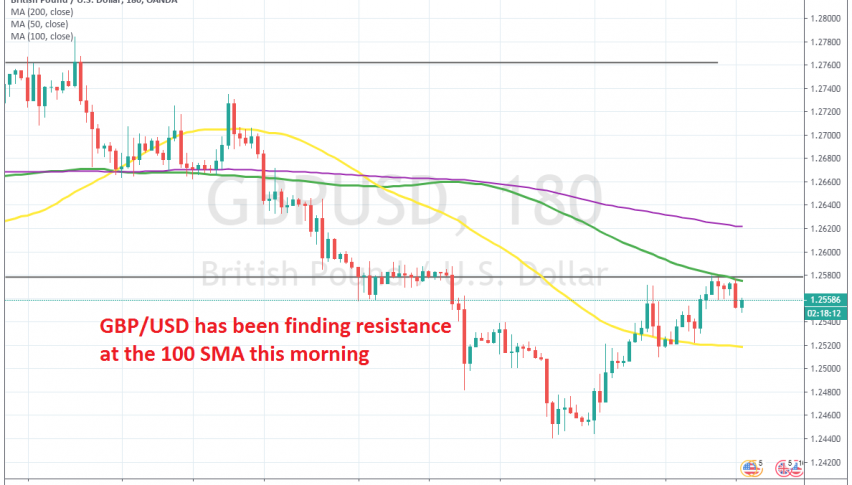 Playing the range Between 2 MAs in GBP/USD
GBP/USD has been pretty bearish for a long time as the GBP as well as the UK economy continue to suffer the effects of Brexit. This pair broke below 1.25 last week, which is a big round level and a major support area, so it gave us the idea that the bearish move was going to stretch further down after opening that door.
But, the FED chairman Powell sounded pretty dovish in the testimony at the US Congress last week, which turned the USD bearish. The FOMC minutes from FED's last meeting were dovish as well, weighing on the USD, so GBP/USD turned bullish in the second half of last week.
Although, the major trend is still really bearish and the situation in the UK is very toxic for the GBP, which will likely get worse as the UK heads off without a Brexit deal. So, our bias is still pretty bearish for this pair. We sold the pullback last week in this pair and pocketed a nice amount of pips.
Today, we are still trying to play the downside in GBP/USD and the chart setup looks a bit better for sellers. We opened a sell signal last week at 1.2550s, which used to be a support area. Today, we decided to sell this pair at the 100 SMA (green) on this H3 chart time-frame. The price has been finding resistance at this moving average all morning and a bearish reversal is underway now.
The big bearish trend might take some time to resume, but we should at least see a decline to the 50 SMA (yellow) which might turn into support again. But, that would be enough to trigger the profit target in our signal. So for now, we will be playing the range between these two MAs in GBP/USD.