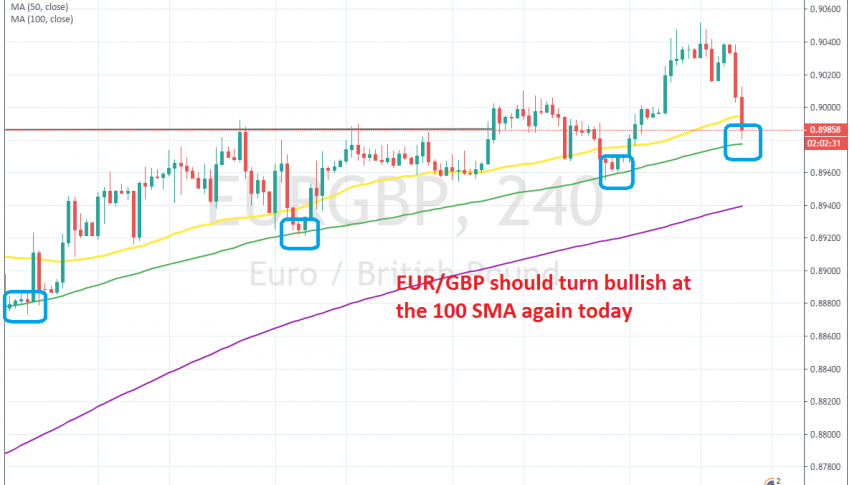 EUR/GBP Dives to the 100 SMA Again, Which has Been Keeping the Uptrend in Place
EUR/GBP has been has been trading on a bullish trend for nearly two months now as the prospect of the UK heading off from the EU with a deal looked increasingly unlikely after Theresa May's failure to pass her Brexit deal in the Parliament which was followed by her resignation. The GBP entered another bearish phase and this pair turned bullish, which has been continuing since the beginning of last month.
During the first few weeks, the uptrend was pretty strong, so the smaller period moving averages such as the 50 SMA (yellow) were providing support. Then the trend slowed this month and the 100 SMA (green) caught up with the price and it turned into the ultimate support indicator for this pair, defining the trend.
The last time this moving average provided support was at the end of last week. GBP/USD bounced off this moving average and I was planning to go long from there, but I lost the opportunity since the bounce came early in Asian trading on Monday morning.
Although, I am not losing this latest opportunity to go long at the 100 SMA. The GBP has made a bullish reversal today, which was helped by the impressive retail sales report for June.
EUR/GBP has slipped lower as a result and it broke below the 50 SMA earlier today without any resistance. But, the sellers are having second thoughts at the 100 SMA, so it seems that this moving average will likely turn into support again for this pair. We decided to open a buy signal down here, and now we are waiting for the buyers to return and resume the uptrend again.