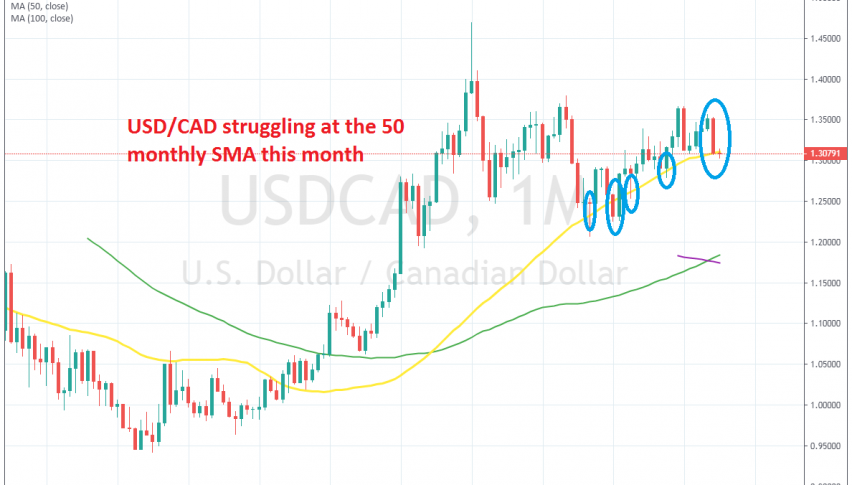 USD/CAD Trying to Make its Mind Up Whether to Keep the Long-Term Bullish Trend Going
USD/CAD has been on a really long bullish trend which has lasted for many years. This pair made a reversal in 2011 when it became clear that the financial crisis was over and this pair climbed more than 50 cents until the end of 2016. Since then, this pair hasn't been able to make new highs, but it hasn't reversed lower either, so we can say that USD/CAD has been consolidating in the last three years.
Although, since the middle of 2017 we have seen a smaller bullish trend form in this pair. Sellers pushed below the 50 SMA (yellow) by the middle of 2017, but the price returned up and the monthly candlestick closed above it, so that piercing doesn't count as a break.
We did see a break of the 50 SMA at the beginning of 2018, but the price returned above it again the following month. We have seen two more piercings of the 50 SMA since then, but this moving average has been keeping the smaller trend going, as it pushes higher. Now the price is back at the 50 SMA again after the 450 pip decline we saw last month.
This month the range has been pretty narrow, which means that traders are trying to decide whether to stay bullish on this pair or turn bearish, and so we are seeing a bit of a struggle. We will see in the coming weeks which direction this pair will take, but this does look like a good opportunity to go long, given that the 50 SMA doesn't give up. Oil prices have started to slip lower this week which is an indication that the pullback lower might be complete now. But, I will try to get a reverasal signal on the lower time-frame charts, such as the daily or weekly time-frames.
USD/CAD has been declining since it failed at the bottom of the range last week, and today's softer Ivey PMI is not helping
5 hours ago
Crude Oil has been bearish for more than a year, but this week we saw a decent reversal higher on higher Caixin manufacturing
3 days ago