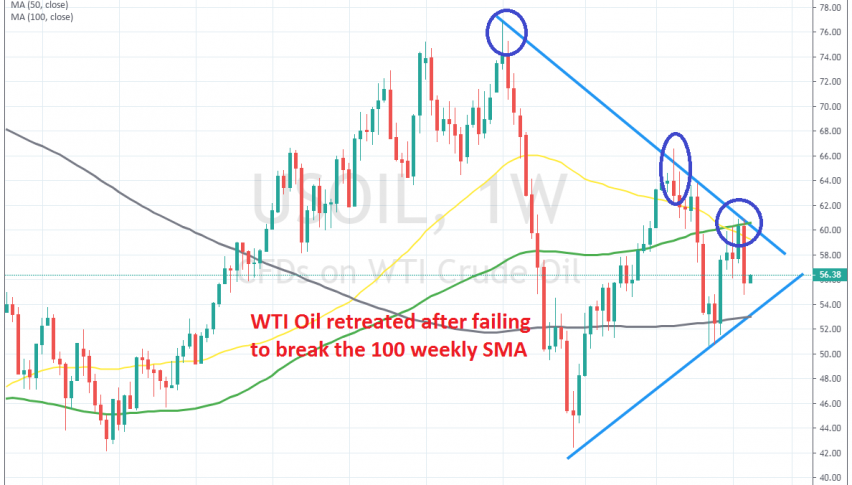 Bearish Sign in Crude Oil As the Reversal Fails to Follow Through Today
Crude Oil turned bearish in May as the global economy entered another phase of weakness in Q2 and the trade war escalated again, both of which hurt the sentiment in financial markets. Safe havens such as Gold attract bids when the sentiment is negative while risk assets such as crude Oil decline since the flow in safe havens comes from risk assets during such times.
The price fell close to $50 level in the US WTI crude, but that area above $50 formed a support zone and Oil bounced off there. The buyers pushed to $61 earlier this month after failing to break the $60 level in the first attempt at the end of June.
But, the descending trend line provided resistance up there and the price formed two doji candlesticks on the daily time-frame, which are reversing signals. The reverse took place immediately after those tow candlesticks and  US crude Oil fell more than $6 last week.
On Friday it formed another doji candlestick at the bottom which is another reversing signal, this time a bullish one. Yesterday we did see a bullish move in crude Oil, but the price failed to move above the 50 MSA (yellow), which seems to have turned from support into resistance now. Besides that, we are not seeing a follow through of the bullish move today, which is a bearish sign. So, this sort of price action points to further declines for crude Oil in the coming sessions,so watch out if you are long on Oil. If not, then you should look to sell the retraces higher.