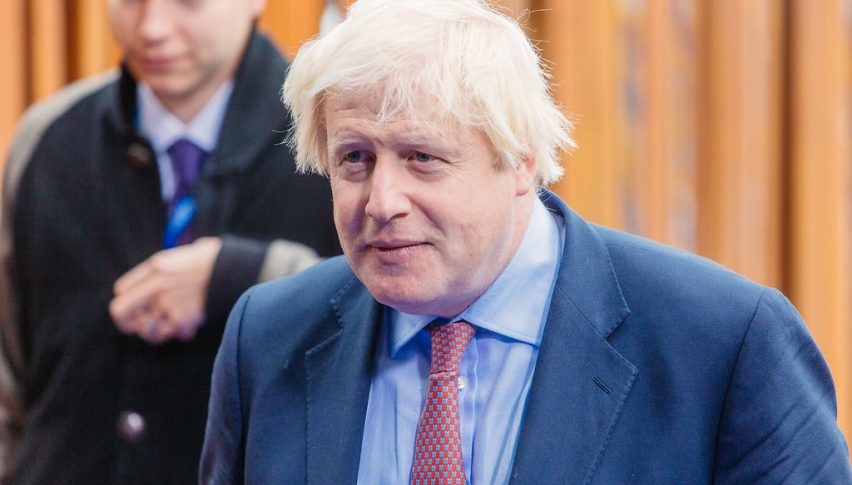 Forex Signals US Session Brief, July 20 – GBP Rebounds as BoJo Becomes the New PM but the Climb Stalls
The day started with the inflation report being released from the Bank of Japan (BOJ) this morning. Inflation has been weak for a very long time in Japan, three decades counting back the years. This year, inflation has softened further as it has done across the globe, although core CPI (consumer price index) climbed higher to 0.7% in April and May, but that's still really weak. In June, inflation weakened further, with core PCI ticking lower to 0.6% YoY as this morning's report showed, and the BOJ is said to be lowering their inflation and growth forecasts for this year.
Although, the main event today was the election of Boris Johnson (BoJo) as the leader of the Conservative Party and as new Prime Minister of Britain. The GBP has been on a bearish trend in the last several days and this morning it fell to 1.2420, but it reversed higher and started climbing ahead of the vote. The price reached 1.2480s a couple of hours ago where the climb stalled after BoJo took the post of Prime Minister of the UK. It has reversed back down now, so it seem more like a buy-the-rumour-sell-the-fact scenario unfolding today in this pair. After all, the situation regarding Brexit doesn't change and the UK economy is heading towards recession as NIESR suggested yesterday, which means that the bearish momentum should continue for the GBP.
The European Session
Inflation Ticks Lower Again in Japan – Core CPI inflation moved higher to 0.7% in April and May, from around 0.4% at the beginning of this year, but today's report showed another tick lower to 0.6% for June. Japanese economy minister, Toshimitsu Motegi said that the economy is continuing gradual recovery and he is expecting the recovery to continue despite some weakness. But, Bloomberg reported earlier that the BOJ is said to downgrade inflation forecast for 2019 at next week's meeting.
PBOC Speaking on interest Rates – The PBOC governor, Yi Gang, was commenting this morning on the state media, saying that current interest rates are appropriate. Any rate decision is to be based on China's situation. The inflation trend is mild and any rate cut will be aimed towards coping with deflation risk.
CBI Industrial Order Expectations – The indicator for industrial orders expectations turned negative in April after the small rebound in Q1 of this year. This indicator has been worsening since then and today it posted a -34 points print for this month, missing expectations of -15 points. Business optimism also fell further -32 points compared to -13 in June. Now expectations are diving after the stockpiling in Q1.
Boris Johnson is the New UK Prime Minister – Boris Johnson has been leading the race for the Conservative Party int he UK since the race started, so the odds were in favour of him becoming the new Prime Minister of Britain. Today the election took place and he won the post. Johnson defeated Hunt with a vote of 92,153 versus 46,656 with a 87.4% turnout. That still doesn't change anything regarding Brexit. The EU might offer him another facial makeup, but nothing substantial, hence the decline in the GBP after his election.
The US Session
Philly FED Non-Manufacturing Index – The Philly FED non-manufacturing index has been weakening, but today we saw a jump from 8.2 points last month to 21.4 points for this month. Although, the wage and benefit cost index declined to 37.0 points from 43.6 points prior. Firm-level activity increased to 24.6 points form 12.2
In June, new orders also increased to 25.5 points vs 14.3 points previously, but full-time employment cooled off to 21.1 points against 23.8 points previously.
IMF Revises Down Global Growth Forecasts – The International Monetary Fund lowered its global growth forecast to 3.2% for this year from 3.3% back in April. Below are the forecasts for the major economies of the globe:
2020 global growth to 3.5% from 3.6%
US to 2.6% vs 2.3% prior
2020 US growth 1.9% vs 1.9% prior
Eurozone 1.3% vs 1.3% prior
2020 Eurozone raised to 1.6%
China 6.2% vs 6.3% prior
2020 China 6.0% vs 6.1% prior
Canada 1.5% vs 1.5% prior
Germany 0.7% vs 0.8% prior
2020 Germany to 1.7% vs 1.4% prior
Italy +0.8% vs +0.1% prior
Advanced economies 1.7% vs 1.8% prior
Emerging markets 4.7% vs 4.4% prior
2020 emerging markets 4.7% vs 5.0% prior
US Richmond Manufacturing Index – The Richmond manufacturing index turned negative at the end of last year, although we saw a short-lived rebound in Q1 of this year. but the decline resumed again and in June this index fell to 3 points. Today a small increase to 5 points is expected.
Trades in Sight
The trend is bearish
The pullback higher is over on the H1 chart
The 100 SMA provided resistance
The reversal is underway after forming an upside-down hammer candlestick
The downtrend has resumed again in GBP/USD
GBP/USD has been on a bearish trend for a long time but it turned bullish last week as FED chairman Powell sounded pretty dovish on his testimony at the US Congress. Although, the retrace higher ended on Friday and the bearish trend resumed again. Today we saw another pullback higher ahead of the vote for the new UK PM, but the climb ended at the 100 SMA (green) on the H1 chart and the price formed an upside-down hammer candlestick up there, which is a reversing candlestick. Now the sellers are back in control since Brexit is what it is.
In Conclusion
So, Boris Johnson is the new British Prime Minister now, although that was widely anticipated, hence the bearish reversal now for the GBP. Johnson will likely head for Brussels soon, but i don't think he will get much from the EU. So, the odds of a no-deal Brexit increase again and he has also mentioned leaving without a deal, although we have to see how things will evolve from now on.