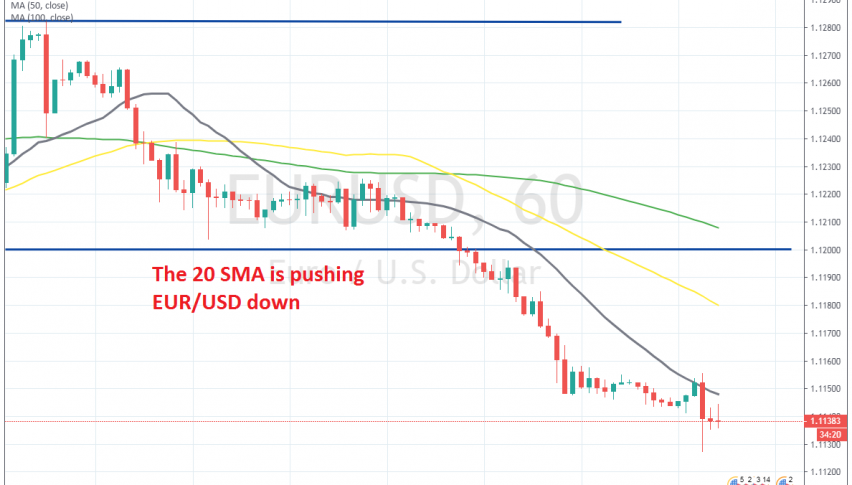 EUR/USD Heads for the Ultimate Support at 1.11 After Manufacturing Disappoints
The manufacturing and services reports from the Eurozone were released a while ago. Expectations were not positive as manufacturing was expected to weaken further in Germany, France and the Eurozone. Although, the reports showed that manufacturing activity slowed down more than expected this month.
In France, manufacturing PMI declined to 52.2 points from 53.1 points last month, which was revised lower as well to 52.9 points. In Germany, manufacturing PMI declined to 43.1 points, which is the lowest print in seven years. This shows that the manufacturing sector is in deep recession in Germany and it is getting worse each month.
Manufacturing has been in recession in the Eurozone as well and today the recession deepened further as the PMI indicator fell to 46.4 points from 47.6 points in June. Services also cooled off in the Eurozone to 53.3 points form 53.6 points last month, but it's still expanding at least.
EUR/USD has been on a bearish trend in the last several days and it lost around 50 pips yesterday. This morning the price was consolidating ahead of the economic data, and the downtrend resumed again after the reports were released. The 20 SMA (grey) caught up with the price just before the manufacturing figures were released and then it pushed this pair lower after the horrible figures from Germany and he Eurozone.
Now we are approaching the ultimate support level at 1.11 and I think that this time the sellers will finally break this level. Although, we might see some sideways trading until tomorrow when the European Central Bank finally sends the Euro tumbling, judging by the recent economic data which has been really weak, such as today.