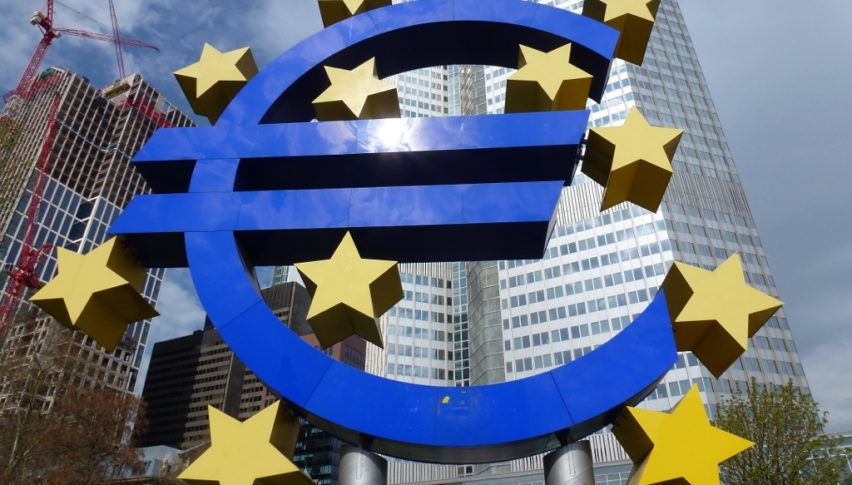 Forex Signals US Session Brief, July 25 – Everything on Hold Ahead of the ECB Meeting
Forex traders have been trading the USD most of the time during the last few weeks. The US economy which was holding up well during the past year weakened in Q2, bringing back fears of a global recession. Although, the GBP has been interesting as well in the last couple of weeks as we headed towards election in the Conservative Party, which Boris Johnson won yesterday, taking the post of the Prime Minister as well. Today though, markets are concentrated on the European Central Bank ECB meeting.
The economy of the Eurozone and especially Germany have weakened considerably in Q2 of this year as well and the manufacturing sector is in recession, having been below the 50 PMI indicator for many month now. Yesterday we saw this sector dive further both in Germany and the Eurozone, while in France it fell in stagnation again. Today the Ifo business climate report showed further deterioration and Ifo economists said that the entire economy of Germany might be heading towards recession now. The ECB might have hoped for some positive figures in the last two days which would help them not turn too dovish in this meeting, but they got the opposite and chances are that the ECB will turn really dovish today which will send the Euro tumbling lower.
The European Session
RBA's Lowe Wants to Keep Inflation Target Unchanged – The RBA governor, Philip Lowe was speaking in Sydney early this morning. He said that it is better not to move inflation target around. There is a benefit in sticking with the current target while more borrowing is a risk of extended period of low rates. Although he does not see a rapid rise in credit growth. Other central banks are lowering their inflation targets as expectations fall further.
German Ifo Business Climate – The German Ifo business climate report has been released and it showed yet another deterioration. Business climate indicator was expected to decline to 97.1 points, but it missed expectations falling to 95.7 points. Current assessment came at 99.4 points against 100.4 expected, down from 100.8 previously. Business expectations also fell to 92.2 points from 94.0 expected and down from 94.2 previously. This is the weakest headline reading since April 2013 with expectations and current conditions also declining further in July. This tells the situation of the German and the Eurozone economy right now.
China Tryin to Look Proud – China's commerce ministry commented earlier today saying that the purchase of US agricultural goods have nothing to do with restarting of trade talks. Chinese firms are willing to buy US agricultural products. Lead negotiators from both countries will meet on 30 and 31 July and hope that US will stop bill restricting Huawei's patent access.
Ifo Expects Tough Times Ahead for Germany – Ifo economist, Klaus Wohlrabe commented earlier, following the data earlier. He said that German economy faces a turbulent time ahead, although he sees a slightly positive growth rate in 2H 2019 for Germany. But notes that recession is spreading in all important sectors in German economy. The risk of disorderly Brexit has increased but doesn't believe that the ECB will loosen policy today.
Big Rate Cut Form the RBCT –  The Turkish central bank announced its July monetary policy decision and they delivered a massive rate cut. The CBRT announces cut to one-week repo rate to 19.75% from 24.00%. Markets were expecting a cut between 2% and 3% coming into the decision, so this is a much larger-than-expected cut announced.
The US Session
The ECB leaves rates Unchanged but Sounds Dovish – The ECB left interest rates unchanged today, with main refinancing rate at 0.00%, marginal lending facility at 0.25%, while deposit facility also remained unchanged at -0.40%. Although, the statement was quite dovish with comments such as seeing rates at present or lower levels at least through 1H 2020. The ECB stands ready to adjust all of its instruments, as appropriate, to ensure that inflation moves towards aim in a sustained manner. They will examine options for tiering and potential QE. The current situation needs highly accommodative policy for a prolonged time. The ECB is determined to act if inflation outlook falls short of its aim. Although, the Euro only delcined by 10 pips.
ECB Press Conference – The ECB left rates unchanged this time, but the statement was pretty dovish, although markets were anticipating a dovish ECB, so there was not much impact on the Euro. But the press conference might get things going for real.
US Durable Goods Orders – Durable goods orders have been quite volatile int the US recently, leaning more on the negative side, but core orders have been stable. For March, orders were expected to turn positive again which they did and increase by 0.7% while core orders were expected at 0.2%. Core orders came double that, increasing by 0.4% while headline orders jumped 2.7% higher. But, headline orders posted another big decline of 2.1% for April, although core orders remained steady. For May, durable goods orders were expected to increase by 0.1% but they declined again by 1.3% this time. On the other hand, core orders were pretty stable, growing by 0.3%, which was revised higher to 0.4% later. So, the transportation orders have been dragging headline orders down. Today, core orders are expected to increase by 0.2% while headline orders are expected to turn positive and post a 0.8% increase.
Trades in Sight
The trend has turned bearish
Fundamentals point down
The 20 SMA is pushing the price down
The pullbacks have been really weak for AUD/USD
AUD/USD turned bearish towards the end of last week and it has lost around 120 pips during this time. The trend has been really straightforward, with pullbacks higher almost non existent. I have been trying to pick a selling spot, but the buyers haven't been able to make a decent retrace higher. The 20 SMA (grey) is also pushing the price down on the H1 chart so perhaps we will short this pair at this moving average.
In Conclusion
The comments form the ECB statement were pretty dovish a while ago. They will keep a highly accommodative policy for a prolonged time and introduce Qe as well probably. But, the Euro is lower by only 10 pips. I was expecting it to fall further but markets were expecting a dovish ECB today. Now we will wait for Draghi's press conference.
USD/CAD continues to slide lower, although it stalled to the bottom of the range earlier, after the dive on the 25 bps hike by the BOC
18 hours ago