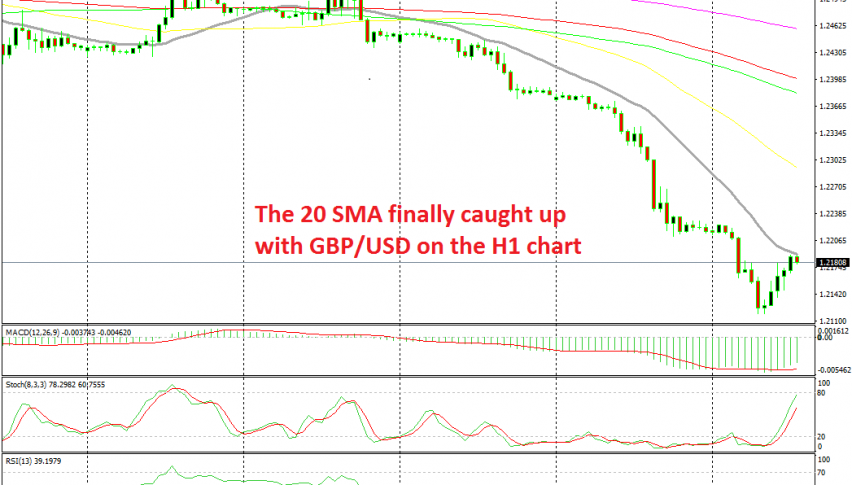 Going Short on GBP/USD at the 20 SMA
The GBP has lost the ground beneath its feet in the last few days. Since last Thursday, GBP/USD has lost around 400 pips and the decline is accelerating. The reason for this is Brexit, of course. GBP traders had some hope that the new Prime Minister Johnson would play the cards better than Theresa May and get a better deal, after offering the EU some more options.
But, he is sticking to the position he used to have before May left. BoJo has just been asking the EU to give him a better deal, without offering or changing anything. The only card he is playing is the no-deal Brexit, with which he is sort of threatening the EU – even though that would hurt the UK economy a lot more than the Eurozone economy.
The 20 SMA has been providing resistance on the 15-min chart but it got broken today
So, GBP/USD has been tumbling lower without any retrace higher whatsoever in the last two days. The 20 SMA (grey) has been providing resistance on the 15 minute chart and pushing the price lower, which is a clear sign that the trend is extremely strong and sellers remain in total control. The other moving averages haven't been able to catch up with the decline.
Earlier this morning, we went short on GBP/USD as it made a small retrace higher to the 20 SMA. The price was finding resistance at this moving average for about an hour and we saw a few doji candlesticks below it, which are reversing signals after the small retrace. But the buyers decided to push higher this time and the 20 SMA was broken on the 15-min chart.
Although, the 20 SMA is holding on the H1 chart at the moment. The price has retraced around 70 pips higher during the European session and it has reached the 20 SMA on this time-frame. This moving average seems to be holding on the H1 chart and the stochastic indicator is almost overbought, so the pullback is complete. We decided to open another sell trade up here after the previous one got smoked by this small surge. Now let's wait for the reverse down to take place.