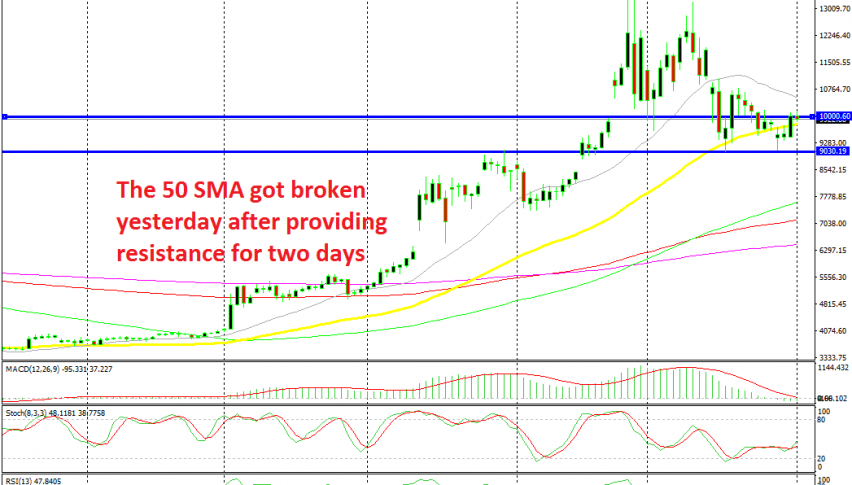 Bitcoin Trying to Make its Mind Up at $10,000, After Pushing Above the 50 Daily SMA
BITCOIN turned quite bullish in the last few months, after breaking above the $4,000 level at the beginning of April. That level had been the high for several months, so once it was gone, the buyers started to regain their confidence and the long-term trend shifted to bullish, after being on a bearish trend for more than a year.
Bitcoin broke above all major levels without running into any resistance, which strengthened the case for the bullish trend as weeks went by. June was really bullish for cryptocurrencies and Bitcoin surged from around $7,400 at the lows to $13,800.
July was sort of bearish though, but it was time for a decent pullback after being really bullish for the last three months. The price retraced lower, but it found support at the area surrounding the $10,000 level in the first few days of last month.
Bitcoin turned higher again, but it failed to make new highs, which was a sign that the bullish trend was going to take a pause. The sellers took advantage and pushed below the $10,000 level by the middle of last month, but the 50 SMA (yellow) held as support on the daily chart. The price bounced off the 50 SMA but returned down and this time, it broke below the 50 SMA.
Although, the high from back in May now turned into support and after two doji candlesticks on this time-frame, Bitcoin made a bullish move yesterday. The price has moved above the 50 SMA again now, but buyers are having second thoughts at the $10,000 level.
If this level gets broken today, Bitcoin will resume its bullish trend and head for $14,000. If the price moves clearly above $10,000 today, we will look to buy pullbacks lower around this big level, but first, let's see if it can break above this big round level today.