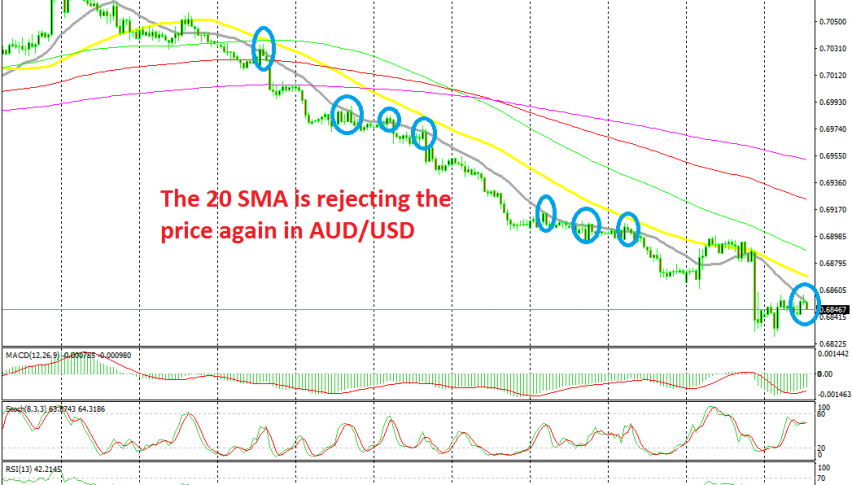 Selling the Pullback in AUD/USD at the 20 SMA Again
Yesterday we opened a sell forex signal in AUD/USD as this pair was making a small retrace higher. The trend had been bearish for about two weeks for this pair and it has been really strong, considering that the smallest moving average (20 SMA) was pushing the price lower, and not waiting for the other larger period MAs to catch up.
Although, the retrace stretched a bit higher yesterday because the FED meeting was approaching and traders were wary of the FED turning really dovish. As a result, the 50 SMA (yellow) caught up with the price and it provided resistance. The pair started reversing lower again as we were heading towards the FED meeting, but the big decline came after the meeting as the FED cut interest rates just once.
The USD made some decent gains after that and AUD/USD lost 50 pips. Now, the downside becomes even more obvious for this pair as the Reserve Bank of Australia (RBA) remains quite dovish,while the FED seems to be done with monetary easing for now.
Today we are seeing a retrace higher and the price has reached the 20 SMA (grey) again on the H1 chart, which is already providing resistance. The previous candlestick closed as an upside-down pin which is a reversing signal and the actual candlestick already looks bearish. The RBA said that they will continue to cut rates if the FED does. So now they should be thinking about it, which makes the picture really bearish for the Aussie, both technically and fundamentally. We sold this pair at the 20 MA, and are now waiting for the bearish trend to resume.