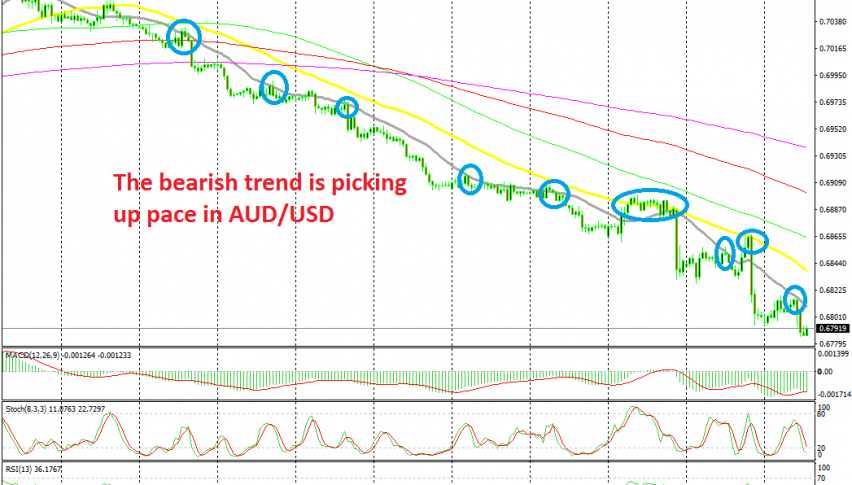 The 20 SMA Returns As Resistance As the Downtrend Picks Up Pace in AUD/USD
AUD/USD has been trading on a bearish trend for two weeks exactly, after reversing down from below 0.71 in July. The sentiment has deteriorated in financial markets, especially recently and the risk currencies have fallen out of touch with buyers, so the trend has been pretty strong and consistent.
That's pretty obvious after looking at the picture above. The chart is on the H1 time-frame which is the smallest period, while the moving averages which have been pushing this pair down are the two smallest as well. Buyers are not waiting for the larger period MAs to catch up with the price, instead, they are jumping in as soon as the smaller MAs reach the price. This tells you that the selling pressure is pretty strong.
Yesterday we saw a retrace higher to the 50 SMA after the soft US manufacturing figures in the afternoon which started reversing the USD lower. But, after Donald Trump announced the new tariffs on China, this pair made a quick reversal lower and declined by 70 pips. The USD lost ground against most major currencies, but the Australian economy and the Aussie will be negatively affected by the increasing tariffs on China, so the AUD is the biggest loser here.
The bearish trend resumed again and it seems to be picking up pace now. We saw a small pullback higher this morning, but the 20 SMA turned into resistance this time, which means that sellers are back in total control. We missed the chance to go short at the 20 SMA earlier on, but will do so once we see another retrace higher.
AUD/USD has been making strong gains this week, with the RBA helping the bullish case, but buyers are facing the 200 daily SMA now
3 days ago