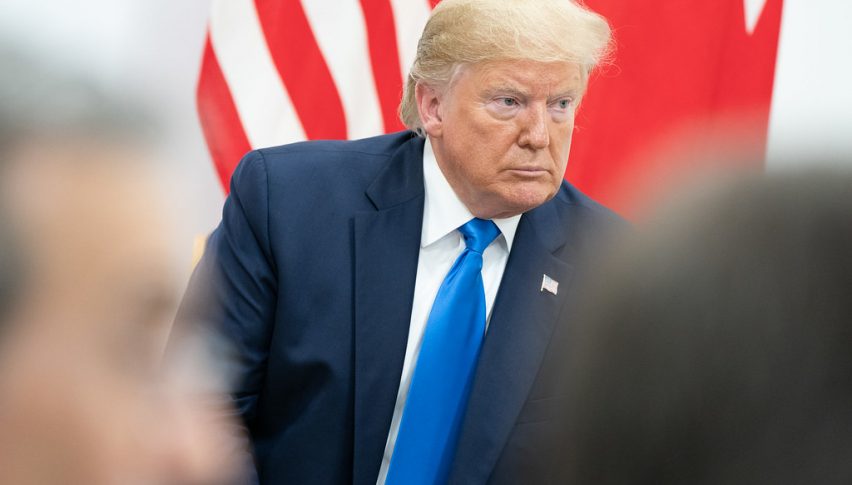 Forex Signals US Session Brief, August 5 – USD and Safe Havens Turn Bearish After new Tariffs on China
The trade war between US and China has had its ups and downs since it started more than a year ago. The US placed tariffs on $50 billion of Chinese goods in June last year and later placed more tariffs on $200 billion worth of goods as China retaliated back. Towards the end of 2018, both sides relaxed their tones and in Q1 of this year the sentiment improved as both sides were heading towards a resolution. But, China backtracked on its promises to tackle IP (intellectual property) theft and forced technology transfer to Chinese firms from US companies.
The tensions increased again at the end of April which sent safe havens surging in the next two months and risk assets such as commodity Dollars diving lower. But the negotiations continued and once again, the sentiment improved in July. We heard some positive comments from Donald Trump and Xi Jinping on the G20 summit at the end of June which made us believe that the trade war was going to be over soon. But last week, Donald Trump tweeted that the US was going to place tariffs on the remaining $200 billion of Chinese goods, so it seems that the trade negotiations are falling apart again. As a result, risk assets tumbled lower with WTI crude Oil around $5 lower and commodity currencies on a slippery slope. The USD has turned bearish as well now, while safe havens are surging higher.
The European Session
European Services PMI – While manufacturing is in a really difficult position in Europe, services are holding up better. Today's Eurozone services PMI report showed that this sector remained unchanged in July more or less. In Germany and Spain where services have been the strongest weakened a bit last month, but in France and Italy this sector improved, leaving the Eurozone number where it was last month at 53.2 points.
Eurozone Sentix Investor Confidence – The investor confidence continues to deteriorate in Europe as the economy heads towards another recession possibly. In July, the confidence was expected to turn positive and post 0.3 points but it deteriorated further falling to -5.8 points. Today's report was expected to show yet another deterioration and come at -6.9 points, but it fell even more to -13.7 points. Things are going from bad to worse in Europe as the data shows.
UK Services PMI – UK services made a reversal in July, increasing to 51.4 PMI points from 50.1 points in June. Composite PMI also increased to 50.7 points against 49.8 expected, up from 49.7 points previously. This means that composite PMI is back into expansion after contracting in June. The headline number also moved away from stagnation where it was heading, posting a nine-month high. But, that won't change the fate of the GBP.
China Sayd its Keeping its Promise to Buy US Agriculture Products – Chinese state media commented early this morning reiterating that the accusations from the US that China is not buying agricultural products are false. They said that 2 million tonnes of US soybeans destined for China will be loaded this month, Chinese companies have signed a deal on 14 million tonnes of US soybeans and China bought 130k tonnes of soybeans, 120k tonnes of sorghum, 60k tonnes of wheat, 40k tonnes of pork, 25k tonnes of cotton from US between 19 July and 2 August.
Brexit Agreement Cannot Be Renegotiated by the EU – The European Commission commented on Brexit today saying that the withdrawal agreement is not open for renegotiation. The EU is open to discuss changes to Brexit political declaration and seeks constructive solutions to Brexit, doesn't want to play the "blame game". Withdrawal agreement on the table remains the best deal possible and expects UK to respect commitment to avoid hard border with Ireland.
Current Yuan Exchange Rate Appropriate for China – PBOC governor, Yi Gang said a while ago that that the current yuan exchange rate is at an appropriate level. China won't engage in competitive currency devaluation, will not use yuan as a tool to cope with external disturbances, such as trade tensions and fluctuations in the yuan exchange rate are driven by the market. Will keep yuan exchange rate stable on a balanced and reasonable level and maintain stability and consistency of FX management policies. He is confident that the yuan will continue to be a strong currency. Seem like apologies to me.
The US Session
Trump Not happy With Yuan Devaluation – The Chinese Yuan has depreciated today, breaking above the long term resistance at 0.7 against the USD. Trump wasn't going to be happy about that despite comments form the PBOC and he has already tweeted abut it: "China dropped the price of their currency to an almost a historic low. It's called "currency manipulation." Are you listening Federal Reserve? This is a major violation which will greatly weaken China over time!".
US Final Services PMI – The service sector has been weakening in the US together with manufacturing. It fell pretty close to contraction in June at 50.9 points, which war revised lower to 50.7 points in the final reading. Although in July, this indicator improved to 52.2 points and moved away from contraction where it is expected to remain for July as well.
US ISM Non-Manufacturing PMI – This sector is the best performing inn the US. It cooled off to 55.1 points last month from around 60 points in Q1, but that still a decent level of expansion. This month, the ISM non-manufacturing PMI is expected to improve a bit to 55.5 points.
Trades in Sight
The trend is bearish
The pace is picking up
Fundamentals point down
Small period MAs are pushing the price lower
The stochastic indicator is now oversold on the H4 chart
AUD/USD turned bearish two weeks ago as the USD buyers returned and the trend has been pretty strong since then. In fact, the trend is picking up further pace as we go. The additional tariffs trump announced on China have hurt the Aussie further as it will mean less business with China from Australia. The pullbacks have been really minimal and smaller period moving averages have been providing resistance for AUD/USD during this time, pushing the price lower, which also show the strength of the downtrend.
In Conclusion
It seems that the trade tensions are escalating once again after trump promised new tariffs on $200 billion of Chinese products and markets have reshuffled in the last two days. Risk assets are getting totally crashed and the USD has also turned bearish. Safe havens are surging again, so volatility is back on in forex.
AUD/USD has been making strong gains this week, with the RBA helping the bullish case, but buyers are facing the 200 daily SMA now
9 hours ago