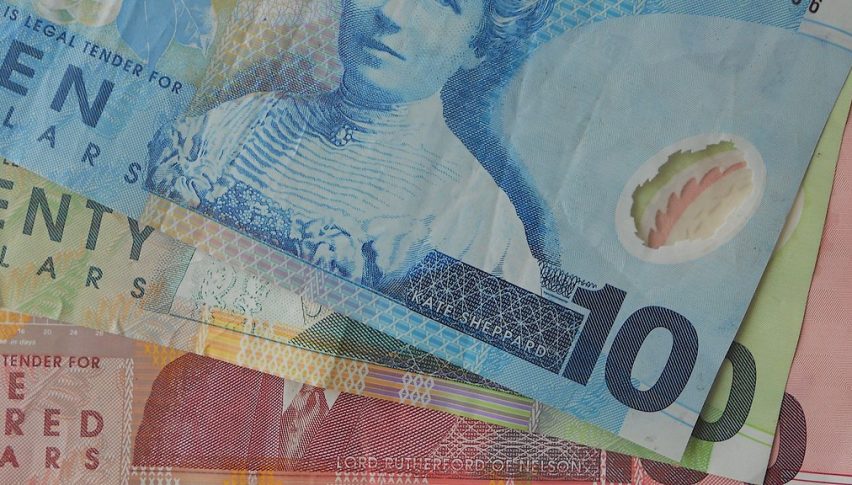 Forex Signals US Session Brief, August 7 – Sentiment Turns Negative Again as Central Banks Cut Interest Rates
The global economy is in trouble and central banks have turned completely dovish, although they are trying not to lose face after being hawkish for years until recently and to sound too panicked. The Reserve Bank of Australia cut interest rates twice by 25 bps in recent months while the Reserve Bank of New Zealand (RBNZ) cut rates once by 25 bps in May. The FED delivered one rate cut last week and the European Central Bank as well as the Bank of Japan are expected to initiate another round of stimulus packages soon. The global economy has been weakening for more than a year, but central banks couldn't see this coming and remained hawkish until very recently.
This morning, the RBNZ was expected to cut interest rates again, considering the escalating trade war between USD and China, as well as other trade tensions such as those between Japan and South Korea. But, they delivered a surprising 0.50% rate cut in the Asian session which sent NZD/USD nearly 200 pips lower. It dragged the Aussie more than 100 pips lower as well, although the cuts from the central banks of India and Thailand also had some impact on markets. As a result, the risk sentiment has turned off again in financial markets. Risk assets are tumbling, with US WTI Crude Oil heading for $50 while safe havens such as GOLD are totally surging.
The European Session
German Industrial Production – The industrial production has been volatile in Germany for more than a year and this sector is getting weaker as months go by. The report released in June showed a large decline of 1.9% in industrial production for April, which was revised lower to -2.0%. Last month's report showed a 0.3% increase in May, but it was revised lower as well to just 0.1%. Today's report was expected to show another negative reversal for June, but the decline was much bigger than the -0.5% expected and showed a 1.5% decline instead.
UK Halifax HPI – The Halifax house price index turned negative in June as the report released last month showed a 0.3% decline. Today's report which was for July was expected to show a positive reversal for last month, but instead of increasing by 0.3%, this house price index fell by 0.2%. The housing sector is very strong in the UK since a lot of dodgy money across the globe flows there as investment in the housing market, but if prices are declining, the economy is in trouble.
China Keeps Denying manipulating the Yuan – USD/CNH moved above the 7 level on Monday after Trump announced new tariffs on China. The Chinese central bank denied manipulating the CNY earlier this week, but Trump is not buying it. Today the Fx regulator SAFE said that US's accusation of China being a currency manipulator is groundless. US's accusation is not according to facts, China welcomes foreign investors, including those from the US and US's actions will seriously worsen global economic and trade environment.
No Backstop, No Deal for Ireland – Irish finance minister Paschal Donohoe commented this morning on the backstop issue, saying that the backstop has to be in the Brexit withdrawal agreement. He added that there is a growing and material risk of no-deal Brexit.
The US Session
Trump Tweeting on the FED Again – The US President Donald Trump tweeted about the FED being too stubborn today after we saw three central banks cutting interest rates overnight. "Three more Central Banks cut rates." Our problem is not China – We are stronger than ever, money is pouring into the U.S. while China is losing companies by the thousands to other countries, and their currency is under siege – Our problem is a Federal Reserve that is too………proud to admit their mistake of acting too fast and tightening too much (and that I was right!). They must Cut Rates bigger and faster, and stop their ridiculous quantitative tightening NOW. Yield curve is at too wide a margin, and no inflation! Incompetence is a………terrible thing to watch, especially when things could be taken care of sooo easily. We will WIN anyway, but it would be much easier if the Fed understood, which they don't, that we are competing against other countries, all of whom want to do well at our expense!"
Canadian Ivey PMI – Canadian Ivey PMI which is a leading indicator of economic health used to be above 60 points at the end of last year, but it has been on a declining trend since then. Last month's report which was for June was expected to show an increase to 56.4 points form 55.9 points but it posted a big decline to 52.4 points. Today's report is expected to show an increase to 52.7 points, but we might see another decline fur July.
Trades in Sight
The trend is still pretty bearish and it picked pace further last night
The pullback is complete on the h1 chart
20 SMA is providing resistance again
Fundamentals are bearish for the Aussie
The price is finding resistance at the 20 SMA again today
Yesterday too, we had a bearish bias for this pair and we had an open signal targeting the downside. That signal closed in profit after the big bearish move following the 50 bps rate cut from the RBNZ. During the European session, AUD/USD has been retracing higher, but the retrace seems complete on the H1 chart now. Stochastic is overbought, the 20 SMA is providing resistance again and the trend is still pretty bearish. We went short off the 20 SMA earlier on, so we remain bearish on this pair.
In Conclusion
Traders have had sort of mixed feelings regarding the USD today as it has been trading sideways most of the time. But, the Buck is turning bearish now, losing ground fast across the board in the last half an hour or so. The reason for this is probably the tweet from Trump which suggests further easing from the FED. The FED doesn't listen to politicians much, but it's doing some damage to the USD right now.
The Reserve Bank of New Zealand raised interest rates yet again early today
2 weeks ago