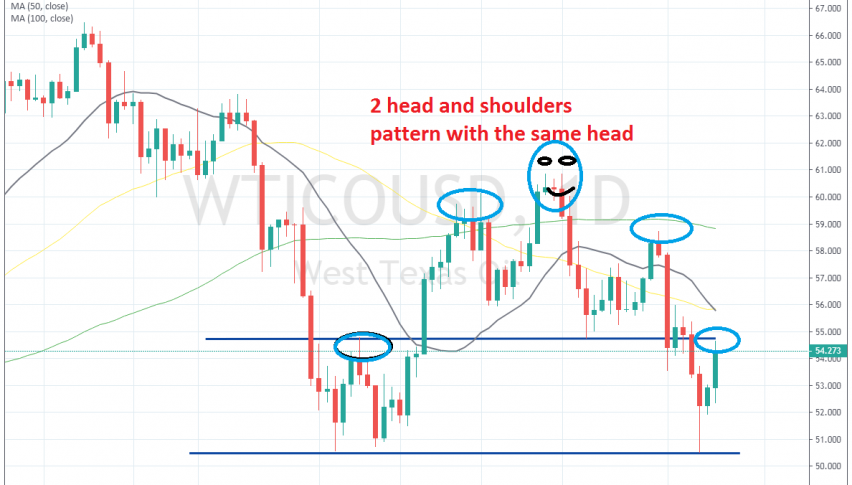 The Head and Shoulder Inside Another Head and Shoulder Should Send US Oil to $40
Crude Oil turned bearish towards the end of April after the trade war escalated again and it became obvious that the global economy wasn't going to revive anytime soon. In fact, the global economy is slowing down further as the economic data from UK and Canda showed yesterday and central banks are all turning pretty dovish, so the risk sentiment has turned off again and a s a result, risk assets such as crude Oil and commodity Dollars have been suffering in the last several weeks.
US WTI crude fell to $50.50s at the beginning of June, but that big round level held on in the first attempt and it seemed like it has formed a support zone above $50. The price bounced off that level, but WTI found resistance at another big round level at $60. Although, after a retrace lower that level was broken and buyers pushed to $61. But, sellers returned again and pushed the price lower.
This time, the previous high just below $55 turned into support and buyers pushed higher again, but the climb ended below $59 and the price returned down, which formed a head and shoulders pattern. Yes, the right shoulder is about $1 lower than the left one, but this pattern doesn't have to be perfect. if the shoulders are one higher than the other, or even if the neckline is not straight, the pattern counts the same.
Speaking of the neckline, the first one for the first head and shoulders pattern comes at around $55 which was the low last month. Sellers broke the neckline last week, after Donald Trump announced new tariffs on china, which hurt the sentiment further in financial markets. But, that pattern is  not complete yet; according to the textbook, the price should have fallen to $49.
But, the previous support zone above $50 held again, confirming it as a strong support area. Now, another head and should pattern is on the making and this one should take the price below $50 and down to $40. Both shoulders of this pattern come at $55 while the neckline is at $50.50s. This means a $10.50 distance from the top of the head at $61 down to the neckline. If this head and shoulders pattern is to work out, which it should considering the global economy and the escalating trade war, then US WTI crude is headed for $40 exactly. Although, the $50 level has to go first for this pattern to work out, which I think might work this time.