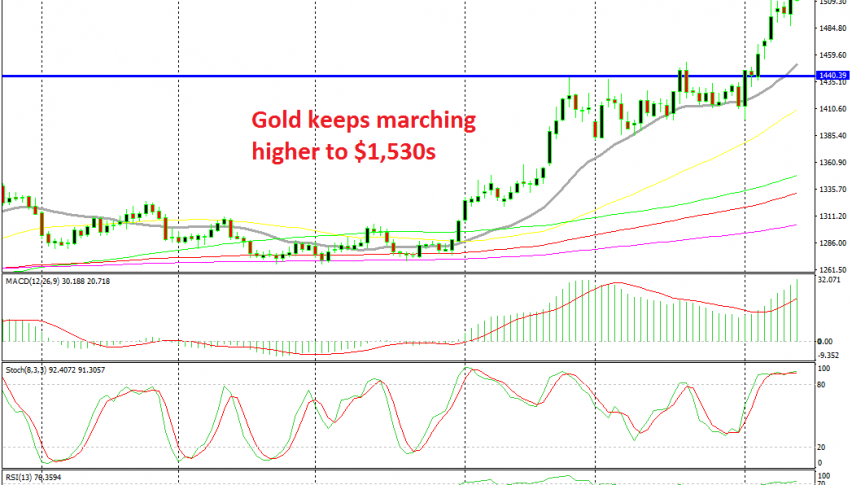 The Surge in Gold Continues as Global Economy Keeps Weakening
The global economy is in a difficult spot right now. It has been weakening for more than a year and now it seems like it might even fall into recession. The Eurozone economy as well as the German economy are in a really tough situation and after today's terrible economic sentiment figures, economists expect the Q2 GDP report from Germany which will be released tomorrow to show a contraction.
With the direction that the economic data points to, the German economy will likely contract again in Q3, which would put it officially in recession. As a result, safe havens have been surging higher, especially GOLD . The shiny metal had a great month in June when it surged from $1,280 to $1,440.
In July though, Gold consolidated in a range but it broke the resistance at $1,440 for a few sessions, which was a sign that the upside momentum was going to continue. Another sign was the fact that sellers weren't to be seen anywhere, as lows kept getting higher. The 20 SMA (grey) did a great job as well in providing support during pullbacks and pushing the lows higher during June.
Then, Donald trump announced new tariffs on China which hurt the sentiment further in financial markets, so massive bids returned for safe havens again. Gold broke above the big round level at $1,500 last week and today it is surging higher again. A good push came after the German and Eurozone economic sentiment figures.
So, Gold should remain bullish as the global economy keeps deteriorating and the trade war keeps escalating. I think that the 20 SMA will be a good place to go long on Gold once it catches up with the price.
Yesterday the CPI numbers from European countries showed a slowdown, so today's headline Eurozone inflation numbers should be soft as well
4 days ago