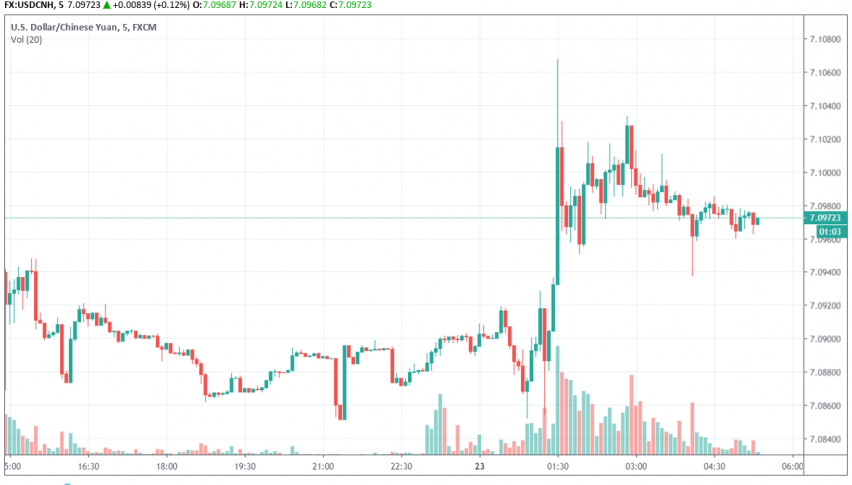 Chinese Yuan Suffers as Japan-South Korea Trade Conflict Escalates
Posted Friday, August 23, 2019 by
Arslan Butt
• 1 min read
The trade row between South Korea and Japan escalated further after South Korea announced its decision to end its intelligence-sharing pact with Japan. These latest developments, as well as the ongoing Hong Kong protests, continue to weigh on the Chinese yuan as it continues to weaken against the US dollar. At the time of writing, USD/CNH is trading at around 7.097.
According to a formal statement by South Korea's Deputy Director at the National Security Office, Kim You-geun, "The government of the Republic of Korea decided that maintaining this Agreement, which was signed to facilitate the exchange of sensitive military information, does not serve our national interest."
The decadea-old dispute between the two countries over compensation for forced time labor flared up in early July after Japan imposed restrictions on exports of key raw materials used by South Korean tech companies. Since then, both countries have removed each other from their trade whitelists and introduced other measures that have further strained their trade relationship.
Japan has already protested against this latest move, stating that it could damage trust between the two nations. According to Japanese PM Shinzo Abe, "Japan will urge South Korea to recover trust between us, including resolving the matter of violation of the international treaty between Japan and South Korea and hope South Korea will keep their promise."