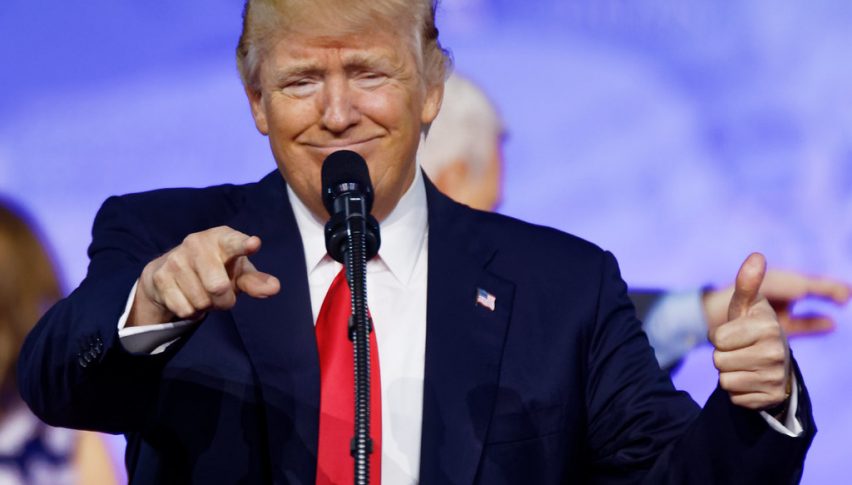 Forex Signals US Session Brief, August 26 – Markets Reverse on Softer Tones From Trump, Following the Crash Last Friday
Markets were trading in a quiet mode last week as we were heading towards the G7 summit. Traders were hoping that a solution would be found and that the US and China would come out of this meeting with some positive outcome, like they did in the G20 summit a couple of months ago. But, this time the situation went the opposite direction and the trade war escalated once again. US President Donald Trump announced additional tariffs on Chinese goods which would take them 5% higher than the current levels, bringing them to 15% for $300 billion worth of goods and to 30% for the remaining $250 billion.
As a result, markets had a flash crash at the very last hour of trading on Friday. Risk assets opened with a gap lower when markets opened at the beginning of the Asian session and they continued to slide down in the first hours of trading today. Safe havens benefited again, as they do when the sentiment is negative in financial markets, with USD/JPY breaking below 105 for the first time this year, while GOLD broke the previous highs and pushed to $1,555 earlier today.
But, the situation improved in the European session after some softer tones from Donald Trump which leave the door open for China to collaborate. As a result, safe havens have been retreating during the European session while risk currencies have reversed higher.
The European Session
German Business Climate – The business climate has been deteriorating in Germany as the economy and especially the manufacturing sector continue to weaken. Last month the sentiment fell to 95.7 points which was revised higher today to 95.8 points. Although it was expected to cool off further today to 95.1 points, it missed expectations declining to 94 points. German economists now expect the services sector to join manufacturing which would put the German economy in a technical recession.
Ifo Economists Expect A Recession – Ifo economist Klaus Wohlrabe commented after the Ifo business climate report that German industrial sector is in a recession and services are now following suit. At most, there will be GDP stagnation in Q2. The last time industrial companies demonstrated such pessimism was back in 2009. Latest developments in trade war not yet reflected by the latest survey.
Trump Speaks/Tweets on Tariffs – Trump spoke after his meeting with German chancellor, Angela Merkel. He said that he hopes he doesn't have to consider tariffs on German cars. G7 summit has been productive, discussed a trade deal with the EU while the EU is as tough as China on trade. The US has lost a lot of money over the years from the EU. Trump later tweeted on China as well. He said that "anything is possible" when asked about possible China tariffs delay and the US is in a much better position now than at any time in negotiations with China. "Great respect for the fact that President Xi & his Representatives want "calm resolution." So impressed that they are willing to come out & state the facts so accurately. This is why he is a great leader & representing a great country. Talks are continuing!"
Johnson Has Made His Mind Up on Brexit – Financial Times correspondent, Sebastian Payne, reported that Boris Johnson has told fellow leaders not to listen to the "very wrong messages" from MPs who say they'll stop Brexit. "The PM has been very clear to European leaders that he's seen in the last week that the idea that Brexit is going to be stopped is incorrect", said one official
The US Session
Trump Keeps the Pressure on China – Donald Trump made further comments at the G7 summit, saying that if we don't make a deal with China, US companies should leave. If we do, they can stay. So, the situation remains mixed right now and the climb in risk assets has stopped.
ECB to Start Monetary Easing Soon? – ECB governing council member Peter Kazimir commented a while ago, suggesting that he's leaning towards policy action next month. Although, he added that the ECB stimulus should be based on 'broadest agreement'. So, it might not be next month, or it might, who knows?
US Durable Goods Orders – The US durable goods orders were released a while ago. The headline number was expected to cool off to 1.2% for July but beat expectations, posting a 2.1% increase in orders that month. But, core orders came out negative, showing a 0.4% decline for last month. Revisions for June were negative as well, with headline orders down to 1.9% from 2.0% previously and core orders down to 1.0% from 1.2%. Capital goods orders non-defense excluding air beat expectations coming at 0.4% against +0.0% expected. Prior capital goods orders non-defense ex air stood at 1.5% but were revised lower to 0.9%.
Trades in Sight
The main trend is bullish
The pullback lower is almost complete on the H4 chart
The 100 SMA should provide resistance
Pullback are good opportunities to go long on USD/CAD
USD/CAD turned bullish in the mid of July after consolidating above 1.30 for some time. During the last two weeks of last month this pair climbed more than 300 pips higher as Crude Oil prices slipped lower, but during this month, this pair has been trading in a range again. Although, the lows are getting higher with the 100 SMA (green) pushing the price up, so we expect a break to the upside.
In Conclusion
Markets reversed during the European session today, following the crash late last Friday and in the first trading hours of the Asian session. But, the climb has ended for risk assets now and some of them have slipped lower, while safe havens are reversing higher after the retreat in the European session.