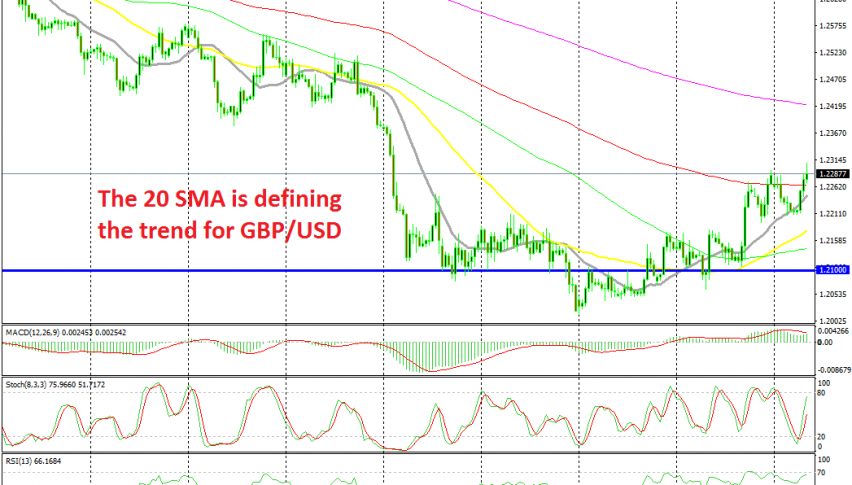 GBP/USD Keeps the Uptrend After Bouncing off the 20 SMA
GBP/USD has been on a bearish trend since the Brexit vote took place, more than three years ago. This pair formed a support zone around 1.25 which held for several months, but that support area was broken last month after Boris Johnson took the post of Prime Minister. He made it clear that the UK is leaving the EU at the end of October, deal or no deal, which hurt the sentiment surrounding the GBP, and hence the break of the support zone.
The price fell to 1.21 initially where it found support for about a week, but then it broke that support zone and fell to 1.20 lows. That's a big round level and the decline stopped right above that level. So it seems that a new bottom has been put in place for GBP/USD.
The price bounced off that area and moved above 1.21, which turned into a support zone again last week. This shows that the trend has changed for the time being. The moving averages which were providing resistance on the way down have turned into support now, which is another sign that the trend is up now. Yesterday we saw the price retrace lower but the 20 SMA (grey) held as support and reversed this pair higher.
The low yesterday was higher that the previous one and the lows keep getting higher, so the trend is definitely up for now. If you are planning to sell this pair, it'd be better to hold on and wait until we reach 1.24 or 1.25 where the buyers will unload some of their positions, which will likely be the end of the climb for this pair.