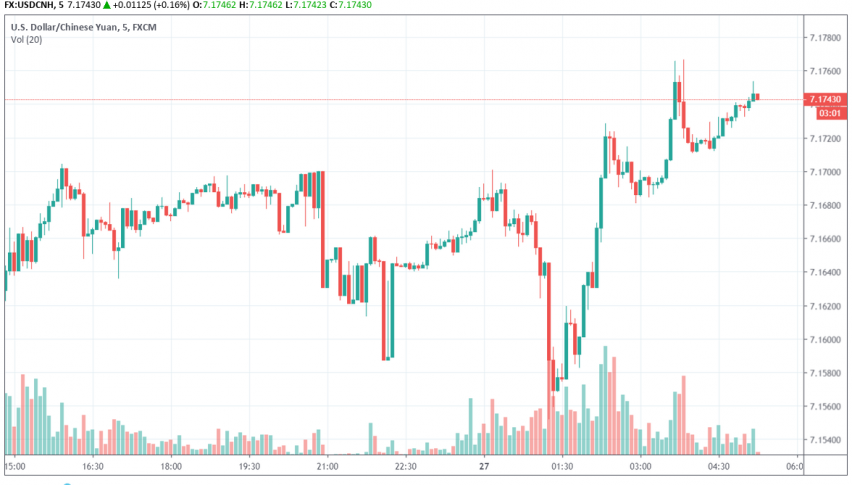 What's Behind the Weakening in Chinese Yuan?
Posted Tuesday, August 27, 2019 by
Arslan Butt
• 1 min read
Early on Tuesday, China's central bank PBOC lowered the official midpoint for onshore yuan at a new 11.5 year low of 7.0810 against the US dollar. Meanwhile, USD/CNH has risen to fresh highs and is trading at around 7.174 at the time of writing.
Keeping the Chinese yuan weaker helps reduce some of the damage of the escalating tariffs being imposed by Trump. China has been setting the official midpoint of the yuan lower and allowing it to trade within a 2% range higher or lower. Ever since the US accused China of manipulating its currency to hold on its competitive edge in international trade a few weeks ago, China has stopped using its forex reserves to support the yuan.
However, PBOC could intervene and prevent the yuan from weakening too much as a faster slide lower could impact investor confidence in the Chinese economy. At a time when the economy is already reeling under the effects of the prolonged trade war with the US, such a move could cause foreign investors to pull money out of the Chinese markets if the yuan devalues significantly.
Economists are expecting China to weaken the yuan further and roll out stimulus measures to boost domestic demand and keep the economy supported if the trade war with the US escalates further.