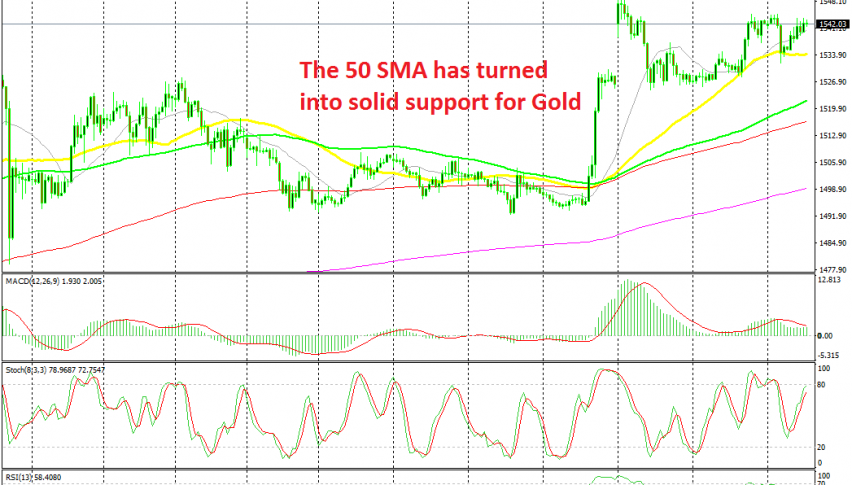 The Pressure Remains on the Upside in Gold as MAs Keep Pushing the Price Higher
Safe havens have benefited greatly from the global trade war during the past year and Gold in particular has done the most of it. GOLD made a bullish reversal in the second half of last year as markets realized that the trade war was going to last more than just a few months.
In Q1 of this year we saw a pause in the uptrend but the bullish trend resumed again in Q2. In Q3, the trend became really strong again as the trade war between the US and China escalated further. We can see the strength of the trend from moving averages; the larger moving averages haven't been able to catch up with the price in the larger time-frame charts, such as in daily time-frame. Instead, the 20 SMA has been pushing the price higher.
On the H1 chart, we saw a surge on Friday last week and a bullish gap when markets opened on Monday. Gold has traded sideways this week, but it seems like the uptrend is resuming now that the 50 SMA (yellow) has caught up. Yesterday we saw Gold bounce higher off this moving average and it did the same today again.
So, the pressure remains to the upside as smaller period MAs keep providing support and pushing the price higher. Now the 50 SMA has turned into a good indicator to go long from in Gold. So, we will try to buy at the 50 SMA if we see an other retrace down there.
Gold broke below the support zone of $1.950 yesterday and now it is headed for the 100 SMA on the daily chart
3 days ago